Angel in an open coat - Angel Stories
By: Joseph-Bernard Snyder, S.F.O.
This happened to me several years ago. I submitted the story to the author who has written many books on angels. At any rate, my encounter occured several years ago. It was a Sunday evening, in the fall, it was around 9:30 in the evening and I had decided to run around the corner to the supermarket before they closed to get some milk for the morning. While in the store I realized there were other grocery items that I needed, so I purchased them as well. Needless to say, this took me past the closing time of the store, and I was the last customer out of the store and was weighed down with several bags. I had to walk home, a couple of blocks. I live in a big city, in the down town district. When I came out of the store I looked across the street and saw 4 rough looking guys just hanging on the opposite corner, I immediately had a gut feeling that they were up to no good. I turned to the right, which is the way I had to walk to get back to my apt complex. As I walked down the street, with several heavy grocery bags in both hands, I had to stop a couple of times to give my arms/hands a rest, it was during one of these rest periods that I had noticed that these 4 guys were walking in the same direction as me, but on the opposite side of the street. An uncomfortable feeling hit me in my gut. I picked up my bags and began to walk a little faster, as I picked up my pace, they picked up theirs, and then 3 of the guys crossed the street and were now following me, gaining on me as I continued to walk faster. I looked forward and all around and there was NO ONE anywhere to call to or help and I knew I was in trouble. The street was dark and now it was after 10:30 p.m. I said a quick prayer, Dear Lord, please get me home safely. It was then that standing in front of me, was a young man, dressed in a suit and tie, with a trench coat opened and blowing in the eveing breeze, he stood right in front of me and asked if I needed help. I told him that I was ok, then he said to me, well let me walk with you. I said to him, thats ok, I dont want to inconvenience you, he firmly said, thats ok, I WILL WALK WITH YOU. At that he reached and took a couple of the bags that I was carrying. The 3 men following me and the 1 man on the opposite side of the street continued to follow us, but at a little distance behind us. When we, this young man and I reached the traffic light, across from my apt complex, I said to him, I live over there, he said, "yes I know", I was a bit puzzled and asked him, "by the way what is your name", he said " Michael", I said, wow, just like the angel and you came out of no where like an angel, he said "yea, how about that". The light changed, and Michael and I crossed the street together, the 4 other guys were on the other side of the street, still watching Michael and I. When we crossed the street, we had gotten to the locked gate to my apt. complex, I said to Michael that I would be ok, he said that he would wait until I unlocked the gate and was inside the court yard. I thanked Michael and he looked intently into my eyes, with a look that to this day is not easy to explain, but it was deep, it was peaceful and peace filled and warm. I unlocked the gate, took my bags and closed the gate behind me. As I began to walk towards my apt, I looked back and down the street and he/Michael was gone, nowhere to be seen, nowhere in site. It was then that I realized that the young man I encountered, who walked me home, who was my guide and protector on that dark street that night, was truly a being from Heaven.
---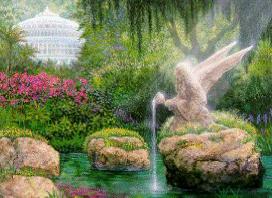 Some may never see with earthly eyes these heavenly beings or know that they exist. Many are unaware of the numerous ways they have protected and guided us. We would like to share with you the stories of people who take pleasure in expressing how real angels are.
---
More Saints
---
---
---
---
---
---
---
---
---
---
---
---
---
---
---
---
---
---