How can I know if my loved one is in heaven?
---
Is it possible to know if my beloved departed is in heaven?
How do we know our loved ones are in heaven? For those of us grieving the loss of a loved one, there may be no greater question, and no greater comfort than knowing our beloved is with God. Is it possible to know for sure?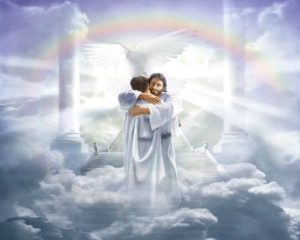 We look forward to the fulfillment of the promise made to us.
Highlights
By Marshall Connolly (CALIFORNIA NETWORK)
Catholic Online (https://www.catholic.org)
11/2/2017 (5 months ago)

Published in Christian Saints & Heroes
Keywords: heaven, love, departed, deceased, saint, soul, spirit, Purgatory, heaven, God, grieving
---
LOS ANGELES, CA (California Network) -- Anyone who makes it into heaven is a saint. That's what the word means. The Church recognizes thousands of individuals who are certain to be saints. All of the saints lived meritorious lives, and died in a state of grace and friendship with God. In many cases, these individuals devoted their entire lives to Jesus Christ. Following investigation by the Church, and based on evidence, we can reliably say some people are saints. But what about the rest of us ordinary folks?
Ordinary people can and certainly do go to heaven. While the Church recognizes thousands of saints, it is not the Church who decides who is a saint. God alone is responsible for particular judgement. Particular judgement occurs at the moment of death, and is when we are judged to go one place or another. It is virtually certain there are millions to billions more saints than recognized by the Church.
For ordinary folks who die as followers of God, but who are still imperfect in some ways, there is Purgatory. Purgatory is a place of purification, open to those without mortal sin, but whose venial sin must still be cleansed. These souls will eventually reach heaven, but nobody knows how long this process takes. We know the prayers of the faithful on Earth help them, and this is why we celebrate All Souls Day.
As for telling if our loved one is in heaven, the best we can do is ask for a sign. What form that sign might take is subject to wide interpretation. Unfortunately, there is no process whereby we can ask the question and receive a definitive answer.
There are people who claim they can answer the question, but you should avoid these people. Mediums and others who dabble in the occult and claim to channel spirits are charlatans at best. At worst, you are toying with demonic possession. Consulting and engaging the services of such people is a dangerous activity that could place your soul in mortal peril. The same goes for people who use Ouija boards and other methods of communicating with the deceased. People who have made this error should immediately speak to their priest. It's understandable that people might be tempted to do this, but it is also dangerous.
It is disappointing to hear there is no list one can check, or form a person can submit to get an answer, but heaven is not a bureaucracy. Instead, we are called to have faith that God is just, merciful and loving.
If our loved one sought to be Good, then we can reasonably expect that God's mercy and grace will have worked in this person's life to deliver them from evil. We serve these loved ones by offering prayers in their name, in the hope that  our devotion hastens their departure from Purgatory.
We never forget or fully heal from the loss of a loved one, because our wounds are more than physical. All we can do is have faith and pray. The Holy Spirit comforts those of us who grieve, if we allow it. It's okay to grieve. It's okay to be sad, to visit the resting place, and to want to hold on to the memories of those who have departed. And while life must go on, we will never forget. We may cry and be mournful, this is allowed, but we must also allow room for faith and hope. We must trust in God's mercy and grace.
The greatest memorial we can provide is our prayers, and to lead good lives. We do this so that someday when we close our eyes for the last time in this realm, we can open them in the next to see our beloved smiling at us in heaven. At that moment, all sorrow will be banished forever. Let us have faith in God, who keeps His Holy word. Let us have faith in Love.
---
Copyright 2018 - Distributed by THE CALIFORNIA NETWORK
Pope Francis Prayer Intentions for APRIL 2018
For those who have Responsibility in Economic Matters.
That economists may have the courage to reject any economy of exclusion and know how to open new paths.
---
---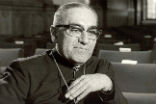 In his role as Vicar General, Monsignor Ricardo Urioste was one of the closest collaborators of Oscar Romero, the archbishop of San ... continue reading
---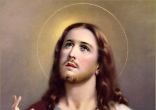 Sister Consolata di Santo, one of the first religious sisters to work in the hospital developed by St. Padre Pio, died March 2 at age 101, ... continue reading
---

Billy the Kid, a notorious bank and stage-coach robber of the Wild West, met his match in the most unlikely of people when he met Sister ... continue reading
---

For over four centuries, a historical and iconic miraculous statue of Jesus Christ carrying his Cross has become an emblem of passion, ... continue reading
---

A holy relic of St. Francis Xavier is touring Canada from St. John's to Victoria. LOS ANGELES, CA (California Network) - The forearm ... continue reading
---