Saint Patrick, the superhero
---
Yes, superheroes are real.
In the middle of the 5th century, the Irish king Niall of the Nine Hostages led raids into Roman Britain. His warlords took captives as slaves, among them was a young boy of about sixteen years named Patrick. Left naked and hungry, Patrick was forced to serve as a shepherd for six years until his escape --and eventual revenge.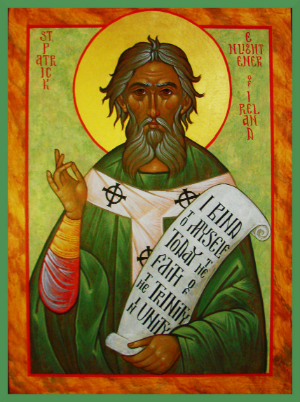 Saint Patrick is a genuine hero, having changed the world for the better thanks to his devotion to God.
LOS ANGELES, CA (California Network) -- In today's culture, stories about superheroes abound. Comic books are a multi-billion-dollar industry. Movies about comic-book heroes rake in billions each year. It seems people cannot get enough of these fictional characters. The strange things is, we have plenty of real superheroes to celebrate, yet few people do.
Saint Patrick is one of those real-life superheroes. He is so significant, he has a day dedicated to him that most people observe, although the reason for this observance and the manner of it is questionable. If only people truly appreciated Saint Patrick, their attitudes towards the holiday might change.

Like any good superhero story, it begins with a young man entirely unaware of himself who suffers a grave injustice. Patrick was a Roman citizen. His father was a deacon and a leader of his middle-class community. This means Patrick was well raised with some privilege. However, he was not particularly religious. 
At that time, King Niall of Ireland raided Britain, and one of his warlords carried off Patrick for a slave.
Patrick was stripped naked, or mostly so, and he was given virtually nothing to eat. In Ireland, he was compelled to serve as a shepherd. He served his master for six years. His only comfort were the prayers he knew and his meditations on God.
One day, Patrick was able to escape captivity. His flight carried him two hundred miles overland to a port where he found a captain willing to sail him back to the country of his birth. The voyage took three days, and upon arrival in Britain Patrick and the crew left the ship and wandered the countryside. The group stayed together, but food was scarce. Patrick suggested they put their faith in God whom he said would provide. Shortly thereafter the group came upon a herd of wild boar which they were able to catch and eat. This helped solidify Patrick's holy reputation.

Having returned home, Patrick became a scholar of the Christian faith. The same as any superhero he needed to learn the discipline of his power. As he studied, the desire for revenge grew within him. But he was not motivated to exact vengeful revenge, as most superheroes are wont to do. Instead, his was a benevolent revenge, he would convert his former captors to Christianity.
Patrick returned to Ireland and spent the remaining 30 or so years of his life converting the Irish people. He was the most successful Evangelizer since Paul. He built the first Christian church in Ireland and converted some of those responsible for his enslavement years before. Christianity bloomed across Ireland.
Following the work of Saint Patrick, Ireland became a center for Christianity and a repository of knowledge. As Rome burned and barbarians ravaged the continent, books and manuscripts of the ancient world were carried piecemeal into Ireland and were diligently copied, one letter at a time, by patient monks working in silence. It was this work that preserved much of what we know of ancient civilization.
As Europe recovered from the upheaval of the early medieval period the knowledge stored in the Irish monasteries was returned to the continent and propagated. If not for Patrick and the Irish monasteries that flourished in his wake, our knowledge of the ancient world would be much less.
Today, we celebrate St. Patrick, but the reason and the manner is entirely divorced from the saint and his purpose.
St Patrick's Day became a major holiday in the United States for political reasons as low-paid, badly-treated Irish immigrants sought to organize and demand better treatment in the labor market. The day provided a convenient excuse to flex their political muscle in public.
As the Irish assimilated into American culture, the need for the holiday faded and it was eventually co-opted by private industry and secularized further, turned into an ersatz celebration of Irish culture.
Today, the holiday is associated with debauchery, the mirror opposite of St. Patrick's piety.
Anyone who wishes to honor St. Patrick could do better by attending Mass, praying and reading a book preferably of ancient wisdom, which we would not have had Patrick not returned to Ireland on a mission of revenge.
---
Copyright 2018 - Distributed by THE CALIFORNIA NETWORK
Pope Francis Prayer Intentions for APRIL 2018
For those who have Responsibility in Economic Matters.
That economists may have the courage to reject any economy of exclusion and know how to open new paths.
---
---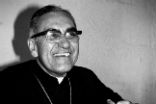 In June 1978 the Archbishop of San Salvador, Oscar Romero, went to the Vatican to meet with the Bishop of Rome, Paul VI. At that meeting, ... continue reading
---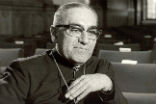 In his role as Vicar General, Monsignor Ricardo Urioste was one of the closest collaborators of Oscar Romero, the archbishop of San ... continue reading
---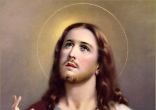 Sister Consolata di Santo, one of the first religious sisters to work in the hospital developed by St. Padre Pio, died March 2 at age 101, ... continue reading
---

Billy the Kid, a notorious bank and stage-coach robber of the Wild West, met his match in the most unlikely of people when he met Sister ... continue reading
---

For over four centuries, a historical and iconic miraculous statue of Jesus Christ carrying his Cross has become an emblem of passion, ... continue reading
---