Archaeologists find ancient tools that could rewrite story of human evolution -- again
---
New ideas constantly develop our understanding.
Archaeologists have discovered stone tools in China that predate previous finds by more than 250,000 years. The discovery will compel anthropologists to rewrite the story of pre-human migration out of Africa once again. 
These hand axes are dated to 2.1 million years of age. Photo: Prof Zhaoyu Zhu.
LOS ANGELES, CA (California Network) - Archaeologists in China have discovered nearly one hundred stone tools made by hominins, our evolutionary cousins. The tools date back at least a quarter million years before the previously-oldest tools found in Georgia. The site in Georgia is 1.8 million years old, and the discovery in China dates back 2.1 million years. 
According to the theory of evolution, humans evolved in Africa, sharing a common ancestor with chimpanzees about six million years ago.  After that divergence, no species of hominid except for homo sapiens sapiens (that's us) has survived to this day. However, there have been multiple species of the genus homo, and several of these species have been found in Africa, Asia and Europe. 
These evolutionary cousins migrated out of Africa, just as our ancestors did about 60,000 years ago. However, these cousins migrated out long before anatomically modern humans evolved. Several of these species were intelligent enough to manufacture stone tools and use fire for warmth and cooking. 
The stone tools are not sophisticated by modern standards, but their development would have changed the world for those who had them. The tools are classified as "hand axes," and are made entirely of stone. The tools were crafted by chipping a stone until it was rounded on one end, and was tapered to a sharp point on the other. Wielded in the palm of the hand, the hand axe allowed the user to smash, pierce, and cut. The tools made it possible to cut wood, and to butcher animals. 
The ability to cook and eat meat facilitated more evolutionary developments, such as larger brains. 
It is unknown if this technology was developed in Africa and was carried by these hominids out of Africa and into the rest of the world, or if the technology was developed independently. Regardless, it appears obvious that hominids left Africa in waves, probably much earlier than previously believed. These early migrants were smarter and more widespread than previously believed. This is updated information, and it hints at the likelihood that our evolutionary cousins left Africa more frequently than previously thought.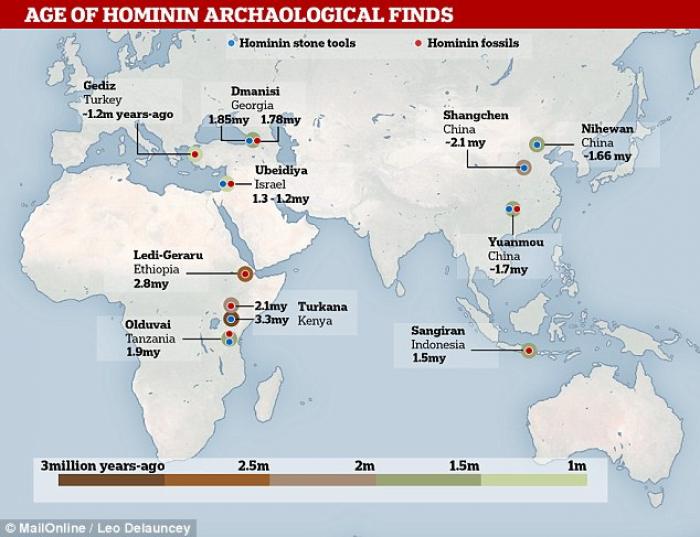 The locations of ancient tools and hominid remains. Blue represents tools and red indicates fossils. Photo: Daily Mail, Leo Delauncey.
The tools in question were found in Shangchen, China where these hominids are believed to have lived intermittently between 2.1 and 1.3 million years ago. They are now the oldest tools discovered outside of Africa. 
Archaeologists are not sure what species of hominid created these tools because no remains have been found.
The discovery also suggests that more finds could be uncovered across Asia.  In the past, great attention has been focused on Africa because that is the cradle of modern humanity. However, if Africa is the cradle, then Asia and Europe are the rest of the nursery. Archaeologists expect more surprises as they study more sites in Asia. 
The fact that the theory of hominid evolution and prehistory must be rewritten should not be construed as an indictment of it. This is how science works. New information causes old theories to be updated, providing a better, more comprehensive understanding. And while scientists still have a lot to learn about human evolution, the fact that humans evolved from prehistoric ancestors is beyond credible scientific debate. Extraordinary scientific evidence would be required to alter the theory of evolution. 
Some people are dismayed at this idea since they prefer to believe in a more literal understanding of human creation, usually as found in religious texts. Some Christians interpret the account of human creation in Genesis literally. There is nothing wrong with this understanding, except there is no credible scientific evidence that supports the account as literal fact. Many Catholics prefer to see the creation story in Genesis as allegorical. The Church itself has gone on record in support of a scientific understanding of human evolution; we cannot put creative limits on God. 
---
Copyright 2018 - Distributed by THE CALIFORNIA NETWORK
Pope Francis Prayer Intentions for July 2018
Priests and their Pastoral Ministry.
That priests, who experience fatigue and loneliness in their pastoral work, may find help and comfort in their intimacy with the Lord and in their friendship with their brother priests.
---
---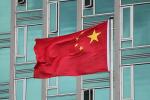 Four priests from the underground Catholic Church in China's Hebei province have been taken into policy custody for indoctrination, ... continue reading
---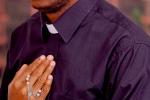 A Catholic priest and three other persons were kidnapped in Nigeria's Delta state Tuesday night, according to local media. Warri, Nigeria, ... continue reading
---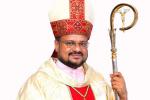 The Indian bishop charged with serially raping a nun has not yet produced a laptop that government investigators say could provide key ... continue reading
---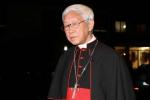 The recent agreement between the Vatican and China is a step towards the "annihilation" of the Catholic Church in China, Cardinal Joseph ... continue reading
---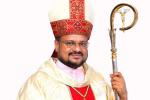 A priest who had been a key witness in the charge of rape against Bishop Franco Mulakkal of Jullundur died Monday, prompting a police ... continue reading
---