Tomato Pie, a Creamy Southern Treat
---
Mouth watering and delicious tomato pie is sure to please
When the first glorious vine ripened homegrown tomatoes appear in my garden, I get excited! I know that it is Tomato pie time, and soon I will be enjoying thick slices of this creamy Southern Treat.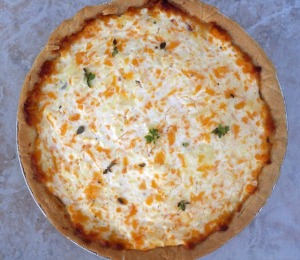 Yummy tomato pie is sure to please the whole family.
VIRGINIA BEACH, VA - This recipe is best served when tomatoes are at the height of season. Those hot house varieties you get in the grocery store will not do. If you grow your own garden, or have neighbors who have blessed you with the excess of their bounty, you should give this recipe a try. 
Tomato Pie

Ingredients
4 tomatoes
1/2 cup basil leaves
1/2 cup chopped vidalia onion
1 deep dish pie shell store bought or homemade
1 cup Monterrey jack cheese grated
1 cup cheddar cheese grated
1 cup Greek style yogurt
1/2 teaspoon salt
1/4 teaspoon black pepper
DIRECTIONS:Preheat your oven to 350 degrees.
Using a fork, poke holes in the bottom of your pie plate. (This is called docking) Place in to a preheated oven and allow to cook for 10-15 minutes or until lightly browned. Remove from oven and allow to cool.
While your pie shell is cooking, slice tomatoes thinly and layer in a colander in your sink. Sprinkle with salt and allow to drain while your shell is cooking. You can also dab the tomatoes with a paper towel to get some of the excess water off of them. This is an important step because if you do not get most of the liquid out the bottom of your pie, it will be soggy.
Remove the pie plate from the oven. Allow it to cool while you make the topping. Combine the two cheeses and yogurt in a medium bowl.
Layer the tomatoes, basil and onion in the pie shell. Sprinkle with salt and pepper. Spread your cheese and yogurt mixture on top of the tomatoes and allow to cook for 30 minutes or until the top is lightly browned.
Serve hot.
---
Catholic Food Blog
---
---