Bourbon Burger
---
Nothing is more American than the burger. A great burger starts with great ground beef, a 20% fat content is ideal for a melt in your mouth burger.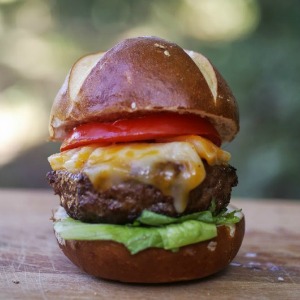 Simply delicious!
VIRGINIA BEACH, VA - It is hot outside, and it is only going to get hotter. Why heat up your house unnecessarily? This chin dripping melt in your mouth, need two napkins, Bourbon Burger is right up your alley.  
INGREDIENTS:1 pound chuck or ground lean beef with 20% fat2 tablespoons grated Vidalia onion1 teaspoon minced garlic1 teaspoon salt1/2 teaspoon ground black pepper2 tablespoons Woodford Reserve Bourbon or other Bourbon4 slices Monterey Jack cheese4 Pretzel Rolls4 Sliced Tomato1 cup torn lettuce
DIRECTIONS:
Prepare a charcoal or gas grill for direct grilling over medium-heatIn a large bowl, mix together the beef, onion, garlic, salt, pepper and bourbon. Form the mixture into 4 patties each about 3/4 inch thick.
Grill the hamburgers directly over medium-heat turning once, 5-7 minutes per side. Check for doneness by cutting a hamburger near the center or testing with a instant-read thermometer. No pink should show on the inside and the internal temperature should read at least 160 F on the thermometer. The last 3 minutes of cooking ad a slice of cheese on top and toast the pretzel rolls cut side down on the grill. Serve the hamburgers on the buns with tomato, lettuce and whatever other condiments you desire.
---
Catholic Food Blog
---
---