A Lenten Soup Supper
---
An easy recipe for Winter Squash Soup
I think I can speak for all of us when I say that we are so tired of this weather. Just when we think the weather is improving, we get sucker punched yet again by Mother Nature. The good thing is we still have lots of Winter vegetables in our Super Markets. I can't think of a better way to enjoy a cold blustery day than with a big bowl of Winter Squash soup. Did I mention it is meatless and perfect for Lent?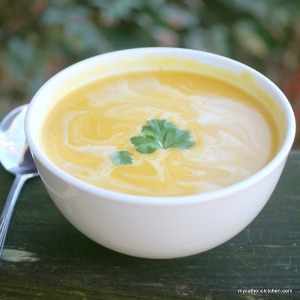 This wonderful Winter Squash Soup is choc full of Squash and other vegetables, yet it is so cream and delicious you can hardly believe it is good for you. Add a salad and a bit of crusty bread and you have the perfect Lenten Meal anyone would be proud of.
This recipe is straight forward and very easy to make. Most of the hands on work consists of roasting the vegetables and a quick mix in a food processor or blender. That is as simple as it gets. 
Winter Squash Soup
Ingredients
1 medium butternut squash
1 medium acorn squash
4 tablespoons olive oil
1 small jar chipolte chili in adobo
2 carrots chopped
2 celery chopped
1 medium onion chopped
6 cups vegetable broth
1 teaspoon salt
1 teaspoon pepper
3 garlic cloves
8 ounces milk or cream
DIRECTIONS:
Preheat oven to 400 degrees.Cut butternut and acorn squash in half lengthwise. Use 2 tablespoons of oil to coat the insides of the squash. Lay face down on baking sheet and bake in for 30-40 minutes.
 
Use remaining olive oil to saute carrots, celery and onion in stock pot until tender. Add garlic salt and pepper. Saute an additional 3 minutes.
Remove squash from the oven and allow to cool enough to handle. Scoop meat from squash and add to pot with veggies. Add broth and bring to a boil. Reduce heat, cover and simmer for 30 minutes.
When veggies are tender add them to the food processor and puree the soup. Add cream and stir to blend. Serve hot.
---
Catholic Food Blog
---
---