Are you really going to let Joseph Smith and Al Jazeera beat Catholic on Facebook?
---
Catholic Online is in position to overtake the LDS prophet, but your help is needed!
Catholic Online has a large Facebook following, growing from about 50,000 followers just two years ago. Since 2012, when Catholic Online began social media marketing the number of fans has grown to over 300k. Despite this growth, a number of other Facebook pages have many more followers.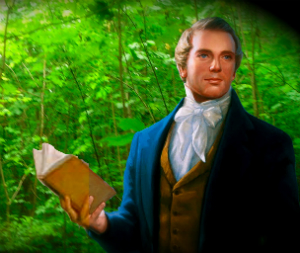 With over 1 billion members, the Catholic Church should be a social networking heavyweight, far outpacing Joseph Smith.
LOS ANGELES, CA (Catholic Online) - Catholics number over one billion members, and form the world's largest Christian denomination. The Church also continues to grow, especially in the developing world. Catholic Online has a major international following, but in spite of these realities its Facebook community lags behind other new outlets and celebrities on Facebook.
Perhaps it shouldn't?
Upgrade your newsfeed, Like Catholic Online on Facebook!
Al Jazeera, English has 3.5 million likes.
Shakira has nearly 100 million likes.
Rhianna, 88 million.
Eminem, 89 million.
Michael Jackson, who is deceased, has 74 million.
A bit further down the list, Miley Cyrus as 40 million likes.
And Kim Kardashian has 20 million likes.
Our beloved Pope Francis has just 682,000 likes.
Joseph Smith, the alleged prophet of the Latter Day Saints has more likes at nearly 352k.
What's going on? We're seeing the classic problem of worldliness trumping faith. Musicians are widely loved. In addition, other religious organizations such as the Mormons have devout followings. Al Jazeera, a news organization known for its Arabic, Islamic roots has a massive following with millions reading its updates daily.
Al Jazeera does produce quality content. Pope Francis has good things to say. Yet, various celebrities can post and tweet the most ridiculous comments, engage in inappropriate behavior with little shame, and they fill our newsfeeds where we consume their drivel.
Where's the counterrevolution? Where's the antidote to the secularism and fanaticism? Where's the balance to the fundamentalism and extremism?
It's in the moderate and compassionate love of our Mother Church. And who better to report on world affairs from a magisterial Catholic perspective than Catholic Online?
Most of you reading this follow Catholic Online on Facebook already. If you don't, perhaps you should ask yourself why the heck not?! When we follow questionable celebrities who display even more questionable morals, but not our own faith, then can we be surprised when the world turns out the way it does?
Like and follow Catholic Online on Facebook. If you already do, then take the next step and share Catholic Online with your family, friends and neighbors.
It's time we put the Catholic perspective first. Celebrities can entertain you, that's for sure, but only the Mother Church can direct you properly to salvation. So what's in your news feed, entertainment or something infinitely more worthy?
Share Catholic Online's Facebook with your family, friends and neighbors.
---
Copyright 2018 - Distributed by THE CALIFORNIA NETWORK
Pope Francis Prayer Intentions for APRIL 2018
For those who have Responsibility in Economic Matters.
That economists may have the courage to reject any economy of exclusion and know how to open new paths.
---
---