When Pope Francis told the atheist journalist Eugenio Scalfari that atheists can be 'touched by grace,' he is absolutely right if he is referring to actual grace.  His response is solidly founded on Catholic dogma.  The Second Synod of Orange (529 AD) stated unequivocally that actual graces precede, even hound, those in a state of unbelief and mortal sin, their purpose then being to bring them from ungodliness to godliness.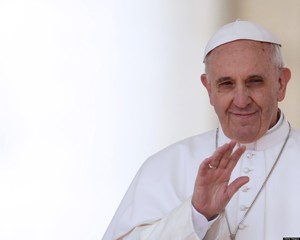 CORPUS CHRISTI, TX (Catholic Online) - In his interview with the atheist founder of the Italian paper La Repubblica Eugenio Scalfari, the following discussion occurred:

Scalfari:  Do you feel touched by grace?
Pope Francis:  No one can know that.  Grace is not part of consciousness, it is the amount of light in our souls, not knowledge nor reason.  Even you, without knowing it, could be touched by grace.
Scalfari:  Without faith?  A non-believer?
Pope Francis:  Grace regards the soul.
Scalfari: I do not believe in the soul.   
Pope Francis:  You do not believe in it but you have one.   

Let us assume that this discussion pertains to supernatural grace.  We are all, after all--atheist included--recipients of natural graces.  Reason, conscience, the natural moral law in our hearts (which Bishop Lucidus in the 5th century referred to as the "first grace"), freedom, health, and prosperity are all examples of natural graces. 

If they were talking about natural grace, there would be no dispute on either side except who is the ultimate source of these natural graces and to what end they are to be used. 

The believer, naturally, would believe that the natural graces come from God the Creator.  The atheist really does not seem to have a good answer as to where these natural graces come from, since all their theories ultimately come down to the tautology: nature comes from nature.

It seems, then, that the two are talking about the order of redemption, the area where supernatural grace reigns.  This is quite certainly what the Pope has in mind since he says that "grace is not part of consciousness," that one cannot know if one is "touched by grace," and that it is something different from "knowledge or reason." 

These are indicators of supernatural graces, not of natural graces, because we are generally conscious of the natural graces.  We know whether we are rich, or famous, or healthy, or intelligent, and so forth.

Now, in Catholic doctrine, supernatural grace is distinguished into two kinds: There is sanctifying, habitual, justifying, or even "deifying" grace.  (These are different terms to describe the same underlying reality.)  But there is also a different kind of grace called actual grace. 

As the Catechism of the Catholic Church (§ 2000) explains: "Sanctifying grace is an habitual gift, a stable and supernatural" and "permanent" "disposition that perfects the soul itself to enable it to live with God, to act by his love," and so to "live and act in keeping with God's call." 

The Catechism distinguishes habitual (=sanctifying=deifying=justifying) grace from actual grace.
 
Actual graces, the Catechism says "refer to God's interventions, whether at the beginning of conversion or in the course of the work of sanctification."  The graces involved in actual graces are transient, punctual, discrete.  Like sparks, like touches, like kisses, they come and they go.

It is difficult to know what grace--sanctifying or actual--is being talked about in this dialogue. 
Scalfari, who may not appreciate the distinction between sanctifying and actual grace, asks the question generally.  In response, the Pope does not distinguish either.  And it is difficult from the Pope's response to know what he has in mind. 

On the one hand, Pope Francis seems to suggest that grace is "the amount of light [of God] in our souls," which sounds like a metaphorical way of explaining sanctifying grace, since sanctifying deals with a state of being.  The Church also teaches that sanctifying grace can be increased, so we can speak intelligibly of things like "amount" of grace in our souls.

On the other hand, he speaks about being "touched by grace," which suggests a discrete actual grace, the grace involved in a particular act and which no longer is present after the act.

Since it is not clear what grace the atheist and the Pope were speaking about, I want to devote this article to the issue of atheists and actual graces, and the next article to the issue of atheists and sanctifying grace.

It would seem rather uncontroversial Catholic doctrine to propose that any human being--even the atheist--can be the recipient of actual graces. 

Indeed, atheists would never convert if they were not the recipient of actual graces to which they responded favorably.  Ultimately, it was their positive and free response to actual graces--very possibly without even knowing their source or even their existence--that eventually brought them to repentance, to conversion to God, and to the state of sanctifying grace by an act of faith in Christ and baptism--by water, by desire, or by blood. 

We know that atheists can and do convert; ergo, atheists qua atheists can be "touched by grace." 

There are former atheists who, with the prophet Isaiah, would acknowledge the truth:

I [God] was found by those who did not seek me.
I [God] revealed myself to those who did not ask for me.

(Isaiah 65:1; cf. Rom. 10:20)

So, if Pope Francis is referring to actual grace, then he is absolutely right.

Indeed, he is sitting on the rock of dogma on this one.

The Second Synod of Orange (529 AD) stated unequivocally that actual graces precede, even hound, all of us.  Even those of us in a state of unbelief and mortal sin are beneficiaries of actual graces, their purpose then being to bring us from ungodliness to godliness.

With his actual graces, God acts liberally even if unseen and unfelt.  We, however, may not so liberally respond.

That an atheist--or any human being--is the recipient of actual graces does not mean that he is saved.  Though actual graces are ordered to bring someone to sanctifying grace (if in a state of mortal sin or disbelief) and ordered to increase sanctifying grace in the justified soul, actual graces, in and of themselves, are not salvific: they do not save.

Actual graces may involve very small, even incidental matters: they may be behind the first step in a journey which leads back to God.  They may involve acts that are not particular religious, acts that are not acts of worship, acts that are even mundane or even imperfect.

Actual graces are found in the sludge and mud--the sloughs of despond--of all kinds of sinners and all kind of sin.  Actual grace does double duty there.  Actual graces are no respecter of persons and easily overcome such things as boundaries of creed, color, or culture. 

Actual grace is found in brothels, in abortion clinics, in concentration camps, in the opium den--in all the hells human build for themselves when they build without reference to God.

A controversial example of this aspect of actual grace is the example that Pope Benedict XVI suggested in his book Light of the World.  He suggested that a gay prostitute infected with AIDS who decided--for the first time in his life--to use a condom and think of someone else, might have been a response to an actual grace. 

This event he suggested "can be a first step in the direction of a moralization, a first assumption of responsibility, on the way toward recovering an awareness that not everything is allowed and that one cannot do whatever one wants."

The gay prostitute is mired in his sin, and is hardly saved or justified by this one act of faulty altruism, but in responding positively to this first step, he may have responded to an invisible prompting--an actual grace--of the God who so wants to bring him to the fullness of life in Christ.

To be sure, this one response is not enough.  It is perhaps the beginning of a journey back to God, to repentance, and to salvation.  That one positive response does not save, though it might incline one a little bit more to seeking the authentic good--God--and rejecting the apparent good which one has placed in front of God.

Which brings one to the point.  Actual graces in and of themselves do not save.  One can have been the recipient of a billion actual graces throughout one's life, and most of us, including atheists, probably are.  But if one is not in a state of sanctifying grace at the time of one's death, it avails one nothing.  There are many people in hell who have received actual graces while on earth.

In short, actual graces are necessary, but not sufficient for salvation.

So, yes, actual grace can touch a soul, even the soul of an atheist, even the atheist who is the most inveterate sinner.

But that's not all of it.  There is, however, another side to it. 

While God's actual grace can touch an atheist's soul, that soul can also not respond to it.  Actual graces are not irresistible.  A soul's freedom of rejection can be exercised in myriad ways.
 
He may not recognize it. 
He can parry the effort. 
He can brush it off. 
He can ignore it. 
He can outright reject it. 

Along with the good news that God wants to touch atheists with his actual graces and wants them freely to respond to them is the rule that is as true for atheists as it is for Catholics and is a necessary requirement of our human freedom:  "Many are called, but few are chosen."  (Matt. 22:14)  All of us, including the atheist, can abuse our dignity, and damn ourselves.

-----

Andrew M. Greenwell is an attorney licensed to practice law in Texas, practicing in Corpus Christi, Texas.  He is married with three children.  He maintains a blog entirely devoted to the natural law called Lex Christianorum.  You can contact Andrew at agreenwell@harris-greenwell.com.
---
Copyright 2016 - Distributed by THE CALIFORNIA NETWORK
Pope Francis Prayer Intentions for May 2016
Universal:
Respect for Women: That in every country of the world, women may be honored and respected and that their essential contribution to society may be highly esteemed.
Evangelization:
Holy Rosary: That families, communities, and groups may pray the Holy Rosary for evangelization and peace.

By Andrea Gagliarducci (CNA/EWTN News)
Former Pope Benedict XVI could appear in public once again on June 29, the 65th anniversary of his priestly ordination. Vatican City, Rome (CNA/EWTN News) - Speaking after the May 20 presentation of a book dedicated to Benedict XVI's pontificate, Archbishop Georg ... continue reading
---

By Tony Magliano
The best way to remember those who have been killed in battle is to work for the day when others will no longer be sent to take their place. Prayerfully reflecting on how to move away from war and war preparation should be central to every Memorial Day.Why do ... continue reading
---

By Ann Scneible (CNA/EWTN News)
The feast of the Holy Trinity is an invitation for us to commit to enriching our everyday relationships by promoting communion, consolation, and mercy, Pope Francis said during his weekly Sunday Angelus address. Vatican City, Rome (CNA/EWTN News) - "Our being created ... continue reading
---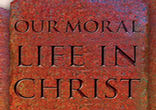 By Deacon Keith Fournier
What we choose determines who we become. Choosing what is good changes the chooser, empowering him or her to proceed along the pathways of virtue and develop the habitus - or habits- which promote Christian character. The Catechism of the Catholic Church ... continue reading
---

By Marshall Connolly (CALIFORNIA NETWORK)
Ever since the reveal of the Third Secret of Fatima in 2000, several people have insisted there's more to the secret than what the public was told. These rumors have taken a life of their own, prompting the Holy See to speak out against them. LOS ANGELES, CA (Catholic ... continue reading
---

By (CNA/EWTN News)
Recognizing the difference between a person who's possessed and a person struggling with a mental illness or other infirmity is a vital part of the ministry of exorcism, according to a long-time exorcist and priest. Rome, Italy (CNA/EWTN News) - Father Cipriano de Meo, ... continue reading
---

By (CNA/EWTN News)
It's a major miracle that you've probably never heard of. Lima, Peru (CNA/EWTN News) - On Sunday, Oct. 3, 1847, more than 2,000 people in Ocotlán, Mexico saw a perfect image of Jesus Christ crucified that appeared in the sky for more than 30 minutes.Approved by the ... continue reading
---

By (CNA/EWTN News)
During his Mass on Thursday, Pope Francis preached a warning to the rich who oppress the poor, focusing on employers who accumulate wealth by misusing those who work for them. Vatican City, Rome (CNA/EWTN News) - "We consider this drama of today: the exploitation of ... continue reading
---

By Kenya Sinclair (CALIFORNIA NETWORK)
William Friedkin, the director of famous horror film "The Exorcist," described a time he was invited to document a real exorcism at the Vatican. LOS ANGELES, CA (Catholic Online) - According to AFP, Friedkin shared his experience at the Cannes film festival Thursday ... continue reading
---

By Kenya Sinclair (CALIFORNIA NETWORK)
We all have bad days - but did you know the devil preys on you when you are the most vulnerable? LOS ANGELES, CA (Catholic Online) - Life is never easy for long. Children, work, school and illness often interfere with the plans we've made for ourselves, and it is ... continue reading
---
All Living Faith News