Hi reader, it seems you use Catholic Online a lot; that's great! It's a little awkward to ask, but we need your help. If you have already donated, we sincerely thank you. We're not salespeople, but we depend on donations averaging $14.76 and fewer than 1% of readers give.
If you donate just $5.00, the price of your coffee, Catholic Online School could keep thriving.
Thank you.
Help Now >
Attaining financial freedom the Catholic way
---
COLORADO SPRINGS, CO (Colorado Catholic Herald) - Mention the name Phil Lenahan in certain Catholic circles, and you're sure to strike up a conversation about finances. An accountant by training, Lenahan, influenced in his early career by late financial guru Larry Burkett, has been promoting financial planning from a Catholic perspective since the early 1990s, and he tours the country delivering seminars on proper financial planning for Catholics.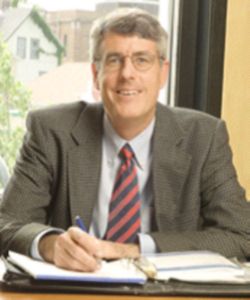 LIVING FAITH - Catholic values-based financial planner and author Phil Lenahan has sound advice for how people of faith can handle money responsibly with a sense of stewardship. (Our Sunday Visitor)
Lenahan, president of California-based Veritas Financial Ministries, now works with Our Sunday Visitor publishing company to provide seminars and small group talks, and in January 2007 he released a book titled "7 Steps to Becoming Financially Free: A Catholic Guide to Managing Money." While the text, workbook and affiliated materials have helped many correct financial troubles, Lenahan points out that his program is not only for those experiencing money problems, and it is a chance to understand how finances fit into faith.
He was in Colorado Springs Jan. 17-18 training 22 group leaders to facilitate small group workshops around the Diocese of Colorado Springs. The Colorado Catholic Herald had a chance to discuss finances and their place in spirituality with the Catholic finance guru.
CCH: What prompted you to enter financial ministry in a Catholic sense?
Lenahan: I'm a cradle Catholic but impacted by some good, Protestant (financial) teachers like Larry Burkett. I thought, "This spiritual approach is a beautiful one. There's got to be a way to bring Catholic teaching to bear." When the Catechism came out it provided the opportunity to put all these thoughts down.
The Catechism in section 2404 calls us to be "stewards of providence" and calls upon us to use our resources not just for our own good. The responsibility becomes all gifts we have. I zero in on one particular aspect of that.
CCH: Are there any spiritual implications involved with debt?
Lenahan: Proverbs 22:7 is one of the ones I use often. It says "the borrower is the slave of the lender." So, there is a sense of bondage when you are in debt. Debt needs to be understood, and in the materials we talk about productive and unproductive debt. People have used debt in many cases to create a lot of wealth. Debt used prudently can be productive. But we're in a consumer-based society, and the average American doesn't understand that distinction. We use debt for things that are not productive.
Productive debt would be used to purchase an appreciating asset. Unproductive debt would be used to purchase a depreciating asset. What do our average American consumers use debt for? By and large they are using it for depreciating expenses -- day to day items -- and they're not paying those off. So, they have a monthly amount that builds up on the credit card. Eventually, high interest charges take their toll.
They're not focused on the debt; they're focused on the minimum payment. Eventually the minimum payment gets to such a level that it's uncomfortable. But by then they're in bondage. So now that Scripture verse becomes a reality for them.
That has all types of ramifications. There are spiritual ones on their life and on their family. Why is it spiritual? It changes their whole attitude. There's a whole fear factor going on. That's at the forefront of their mind. I often speak of finances as one spoke on the wheel of life. If that spoke is broken, the wheel doesn't work very well.
In their proper place, finances are really a relatively small part of who we are. Our relationships with the Lord, our relationships with our families and communities are much more important. But when the finances are not good, they overwhelm the rest of those relationships, hence the bondage. So, the focus isn't on relationships. The focus is: "I have to work a second job. I can't afford to do things for kids. I can't afford to send my kids to Catholic school because of this. I can't afford to give more to the church."
CCH: What is the format of the program?
Lenahan: It's a small group study. Typically, 10-15 people participate at a time. There's a volunteer small group leader that is trained. It's a lay ministry, and people are giving of their time and talent to run these small groups. But the program is pretty much self-contained. They don't have to create material. They don't just have to be a good facilitator. They have to care about the people in their groups.
CCH: What are a few of the seven steps to becoming financially free?
Lenahan: The very first step is to become the steward of providence that we are called to be. That's the foundational step, and that comes right out of the catechism, section 2404. That involves a lot. That's recognizing that God has a role when it comes to money, and that's recognizing that we have a role given to us by God. God's role is defined pretty well in Deuteronomy 10:14. The basic concept is that all the universe belongs to God, and he is the creator and owner of all that exists. Our role is defined pretty well in the Catechism as being that steward of providence. We are entrusted with resources.
It starts there, and then you begin to move into practical application. The other seven steps are very practical. It talks about assessing where you are and having a plan. A good manager has a plan for resources, and very few people do that.
Another step is to have an emergency savings. That's one thing we have to talk about in the seminar. People are in a cycle, and they really are like a hamster just running around. They don't understanding how to go about getting off that wheel. An emergency fund plays a critical role because you've got to have a buffer to get off the wheel. Something bad is going to happen. Families oftentimes aren't anticipating things. They are reacting.
CCH: What is the right way to balance finances and faith?
Lenahan: We talk (in the program) about a daily spiritual plan. In order to maintain a sense of balance, we have to stay grounded in our relationship with Christ. Then we can begin to make decisions that are more in line with the Gospel and less line with everything that gets thrown at us in a consumerist society. We don't want to say a consumerist society is all bad, but we can get sidetracked in our relationship with God.

---
Republished by Catholic Online with permission of The Colorado Catholic Herald, the official publication of the Diocese of Colorado Springs, Colo. (www.ColoradoCatholicHerald.com).
---
---