St. Patrick: Man, Myth & Holiday
St. Patrick of Ireland is one of the world's most popular saints. Along with St. Nicholas and St. Valentine, the secular world shares our love of these saints. Many legends and stories of St. Patrick exsist, but this is his story.
St. Patrick's day quotes that help sum up this rowdy and revered holiday
Celebrate St. Patrick's Day in true Irish style with "the freshest of food and oldest of drink."
What are the things that make this day special to you? Do you have a special recipe, poem, or prayer that you've composed? The best submission in each category will be shared with our social community on Facebook.
---

By CNA/EWTN News • Catholic Online • 9/24/2015
There is no social or moral justification for homelessness, but we can find solace and meaning in the Incarnation, Pope Francis said Thursday during a visit to Catholic Charities in Washington D.C. Washington D.C., (CNA/EWTN News) - "The Son of God came into this world as a homeless person," ...

By Catholic Online (NEWS CONSORTIUM) • Catholic Online • 3/18/2015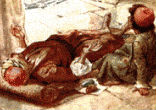 By Catholic Online (NEWS CONSORTIUM) • Catholic Online • 3/17/2015
Fr. Alan on Our Lord's Cure on a Sabbath at the pool of Bethesda and how physical curing is related to spiritual curing from sin. He connects this with the great missionary work of St. Patrick in Ireland and his prayer called the Breastplate of St. Patrick that he prayed at a difficult time ...

By Catholic Online (NEWS CONSORTIUM) • Catholic Online • 3/17/2015
In many schools across the nation, students who forgot to wear green on March 17 received a nasty pinch from friends. St. Patrick's Day evolved from a Catholic holiday to honor the patron saint of Ireland, Saint Patrick, to a secular holiday celebrating Ireland and Irish culture. The holiday is ...

By Augusta Scattergood (The Christian Science Monitor) • The Christian Science Monitor • 3/17/2015
My younger daughter was born one day shy of St. Patrick's Day. We named her Kate for her Great-Aunt Kitty because we loved the name, not because she was Irish. I didn't understand then that a strong ancestral link could be forged with a country across the sea. My family hails from a part of the ...
St. Patrick in the Catholic Encyclopedia
The Catholic Encyclopedia (1907) is the most comprehensive resource on Catholic teaching, history, and information ever gathered in all of human history.
Complete listing of St. Patrick
Croagh Patrick, i.e. St. Patrick's mountain. This mountain was one of his places of retreat and stories state this is where his ministry to Ireland began.
St. Patrick's Purgatory, one of his chosen places of solitude and retreat was the island of Lough Derg.
Patrician Brothers, founding the Religious congregation of the Brothers of Saint Patrick.
Maynooth College, the National College of Saint Patrick, at Maynooth in County Kildare, about twelve miles from Dublin, founded in the year 1795.
Marie de France contributions to French literature consist of lays, the "Ysopet", and a romance published by Roquefort under the title, "Legend of the Purgatory of Saint Patrick"
Aubrey Thomas Hunt de Vere traces the progress of spiritual thought in the development of the nations, notably Ireland, in "The Legend of St. Patrick" (London, 1872)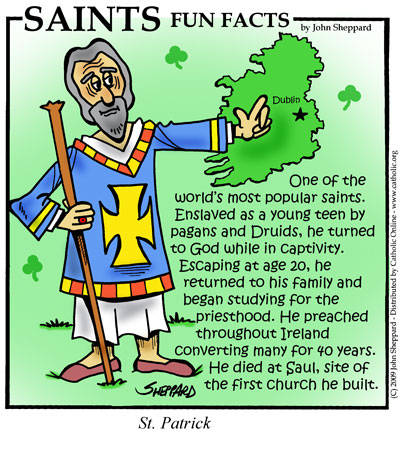 ---
---
---
---
---
---
---
---
---
---
---
---
---