St. Thephane Venard
Short Cuts
Author and Publisher - Catholic Online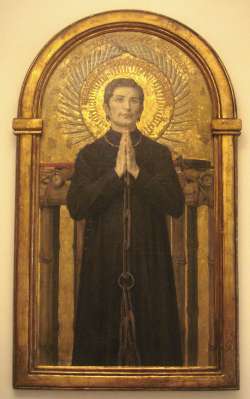 Facts
Feastday:
November 24
Birth: 1829
Death: 1861
Beatified By: May 2, 1909, Rome, Kingdom of Italy by Pope Pius X
Canonized By: June 19, 1988, Vatican City, Rome, Italy by John-Paul II
---
Saint Jean-Théophane Vénard, M.E.P. (born at Saint-Loup-sur-Thouet, Diocese of Poitiers, France, November 21, 1829; died in Tonkin, Vietnam, February 2, 1861) was a French Catholic missionary to Indo-China. He was a member of the Paris Foreign Missions Society. He was beatified in company with thirty-three other Catholic martyrs, most of whom were natives of Tonkin, Cochin-China, or China. Pope John Paul II canonized him, with nineteen other martyrs, in 1988.
---
---
More Saints
---
---
---
---
---
---
---
---
---
---
---
---
---
---
---
---