Bl. Marie Therese Haze
Short Cuts
Author and Publisher - Catholic Online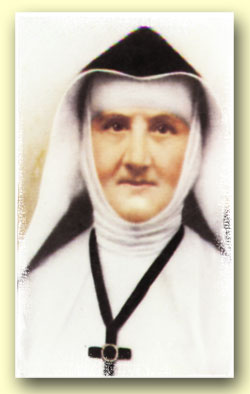 Facts
Birth: 1782
Death: 1876
Beatified By: Pope John Paul II
---
Jeanne Haze was born in Ličge, Belgium, in February 1782. She came from a loving family which gave her spiritual strength throughout her life. Her first experience of suffering came as a result of the French Revolution when Jeanne and her family were exiled to Germany. During that time her father died. The family lost everything and Jeanne became aware of the transitory nature of material belongings.
She was conscious of her vocation very early in her life. Because of their own experience of the Cross, Jeanne and her sister Ferdinande were drawn to those most in need. In answer to a request by Dean Cloes of St Barthélemy in Ličge, they opened a school for poor children.
Jeanne and her sister were joined by other young women wishing to lead a religious life. The local curate of St Barthélemy, Father Habets, who had initially been opposed to their desire for the religious life, soon changed his mind and collaborated in the writing of the first Constitutions of the future "Daughters of the Cross".
Father Jean Guillaume Habets was born in the Flemish province of Limbourg. As mentioned above, he was the young curate to Dean Cloes. He had made it possible for Jeanne and Ferdinande to open their little school for the poor by giving up a house that he himself might have had. Instead, he continued to live in his draughty garret. He took a great interest in the scholars and provided much support, but whenever Jeanne spoke of forming a religious community he shied away from the subject. The more persistent she became about it, the more he actually avoided her. However, when the Bishop visited the little school and showed a delight with the great work of education that was being carried out there, Father Habets found himself telling the Bishop of Jeanne's desire to found a Religious Community. The Bishop agreed wholeheartedly with the idea and asked the young priest to draw up a rule for them. He set to work immediately with much prayer and frequent consultation with Jeanne and her companions, so that by 8th September 1833, the Congregation was ready to come into being. Canon Habets, as he later became, remained a constant guide and support to Marie Thérčse. Both died in 1876, Marie Thérčse on the 7th January, and the Canon at the end of that year.
Biography Provided By: Daughters of the Cross
---
---
More Saints
---
---
---
---
---
---
---
---
---
---
---
---
---
---
---
---