Bl. Luis Batiz Sainz
Short Cuts
Author and Publisher - Catholic Online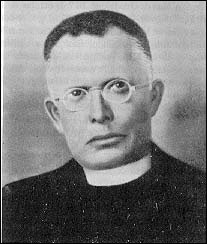 Facts
Feastday:
May 25
Birth: 1870
Death: 1926
Beatified By: 22 November 1992 by Pope John Paul II
Canonized By: 21 May 2000 by Pope John Paul II
---
Luis Bátiz Sainz was born on September 13, 1870. He attended a minor seminary from age 12, and was ordained on January 1, 1894. He worked as spiritual director of the seminary and as parish priest in Chalchihuites, Zacatecas, and a member of the Knights of Columbus. He was noted for his pastoral zeal and capacity to organize the parish. He founded a workshop for Catholic workers and a school.
He spent a great part of his time on the catechesis of children and adults and was very fervent in his Eucharistic adoration. He is reported to have said, "Lord, I want to be a martyr; though I am your unworthy minister, I want to shed my blood, drop by drop, for your name."
Before the closure of the churches in 1926, there was a meeting of the National League for the Defense of Religious Liberty which discussed the possibility of armed rebellion to overthrow the government. Fr. Bátiz spoke at this meeting and was denounced to the government. When the churches were closed, he moved to a private house, where he was captured by government soldiers on August 14, 1926. Although there was a public outcry, the government decided to execute the priest. The next day, on the pretext of transferring him to Zacatecas, he was taken from the city together with three members of the Mexican Association for Catholic Youth. Underway, they were taken from the car and shot on the side of the road.
---