We humbly ask you to defend Catholic Online School's independence. If everyone reading this gave $5, we could keep our School thriving for years. Our heart and soul is a community of people working to bring you unlimited access to free education. Please take a minute to help us keep our School growing. Thank you.
Give Now >
St. Jose Maria de Yermo y Parres
Short Cuts
Author and Publisher - Catholic Online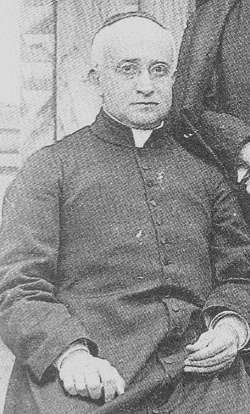 Facts
Feastday:
September 20
Birth: 1851
Death: 1904
Beatified By: November 22, 1992, Mexico City by Pope John Paul II
Canonized By: May 21, 2000, Rome by Pope John Paul II
---
Saint José María de Yermo y Parres (November 10, 1851-September 20, 1904) was a Mexican priest and founder of the Religious Servants of the Sacred Heart of Jesus and of the Poor.[1] He was ordained a priest in the Diocese of León, Guanajuato, on August 24, 1879. Moved to pity by the plight of the poor in his local community, he opened "The Shelter of the Sacred Heart" on December 13, 1885, thus beginning a new religious order dedicated to serving the poor.[2] He was beatified by Pope John Paul II on May 6, 1990 in the Basilica of Our Lady of Guadalupe in Mexico City, and was canonized in Rome on May 21, 2000 along with 26 other Mexican saints - Cristóbal Magallanes Jara and his 24 companion martyrs, priests and laymen; and María de Jesús Sacramentado Venegas, foundress of the Daughters of the Sacred Heart of Jesus.
---