St. Gaetano Errico
Short Cuts
Author and Publisher - Catholic Online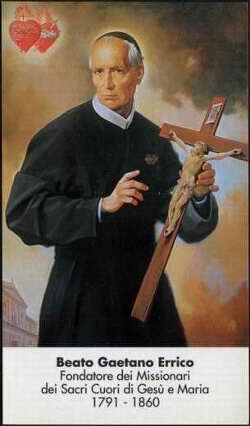 Facts
Feastday:
October 29
Birth: 1791
Death: 1860
Beatified By: 14 April 2002 by Pope John Paul II
Canonized By: 12 October 2008 by Pope Benedict XVI
---
St. Gaetano Errico was born on October 19, 1791 in Secondigliano, a small village of Naples, Italy. He was the second of nine children born to Pasquale and Marie (Marseglia) Errico. His father managed a small pasta factory and his mother worked at the loom weaving plush. He founded the religious order the Missionaries of the Sacred Hearts of Jesus and Mary.
---