St. Cesidio Giacomantonio
Short Cuts
Author and Publisher - Catholic Online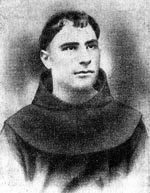 Facts
Birth: 1873
Death: 1900
Canonized By: Pope John Paul II
---
Cesidio (Angelo) Giacomantonio was born on August 30, 1873 in Fossa Aqulina, Italy.
As a boy, Cesidio made frequent visits to the Franciscan monastery of St. Angelo in Ocre, and felt God's call for him to join the monastery. In 1891, his postulancy was done at St. Giuliano in Aquilina and he also made his motivate there and changed his name to Cesidio. On December 8, 1892 he made his first profession and three years later his solemn profession. In 1897 he was ordained a priest. In 1898 after a period of manasteries of Capertrano and Magliano dei Marsi he was called to Rome by Fr. Luigi Lauer, who had promoted the Franciscan missionary outreach. There he entered the International College of St. Anthony as a candidate for the foreign missions.
In 1899 he met Fr. Luigi Sonsini in Abruzzi, Vicar General of Eastern Hebei Province, who encouraged his desire for the missions in China. In October of that year he left for the Far East with the blessing of Pope Leo XII and of Fr. Lauer who had become Minister General of the Franciscans. He arrived in Hengyang on Christmas Day. After a short rest from his journey to Haungshuawan he was sent to a small community in the eastern part of the province. Less than a month later rumors of persecutions began to circulate and the Boxer Rebels made a surprise attack on the main residence in Hengyang on July 4, 1900. Fearful that the Blessed Sacrament would be profaned Cesidio rushed to the chapel without considering his own life in danger. The fanatic crowd wounded him with lances and sticks and wrapped him in a blanket soaked in petrol. They set it on fire and he completed his martyrdom before he reached the age of twenty-seven.
---