Bl. Catherine Troiani
Short Cuts
Author and Publisher - Catholic Online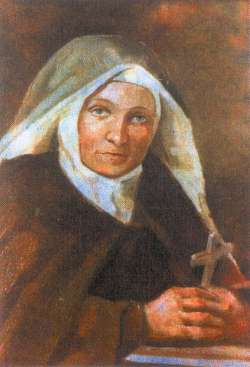 Facts
Birth: 1813
Death: 1887
Beatified By: April 14, 1985 by Pope John Paul II
---
Blessed Mother Mary Catherine Troiani, was born as Costanza Troiani in Giuliano di Roma on January 19, 1813. At the age of six, orphaned by the death of her mother, she was entrusted to the care of the Sisters at the Monastery of St. Clare of Charity in Ferentino, close to Frosinone, south of Rome.
When she was sixteen years old, she became a novice in that same monastery, wishing to live according to the Rule of St. Clare. A year later, known as Sister Mary Catherine of St. Rose of Viterbo, she made her first profession of vows. Among her other duties in the monastery, for many years, she was responsible for the education of young girls.
In 1835, she became aware that God was calling her to be a missionary to the people aloong the southern coast of the Mediterranean Sea. When Bishop Guasco, the Apostolic Vicar of Egypt, invited missionaries to the country, she was more than ready to accept the challenge.
Thus, on September 14, 1859, when she landed with five Sisters in Cairo, she began the first female Italian mission in the land of Pharaoh.
Mother Catherine immediately opened a school for children, all children, without looking at their creed, nationality or social condition. She collaborated with the anti-slavery movement and dedicated herself to the poor, the suffering and the abandoned. Very quickly, her poor house in Clot-Bey, district of Cairo, became a center of practical charity, education and evangelization.
At the end of twenty-eight years of missionary work, during which she opened many centers of evangelization, Mother M. Catherine died in Clot-Bey, Cairo, Egypt, on May 6, 1887. Even before her death, she was considered to be a heroically saintly woman.
---
---
More Saints
---
---
---
---
---
---
---
---
---
---
---
---
---
---
---
---
---
---