St. Anicet Adolfo
Short Cuts
Author and Publisher - Catholic Online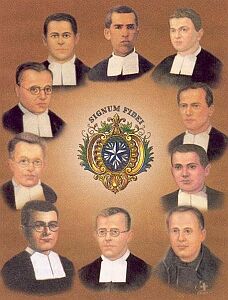 Facts
Feastday:
October 9
Birth: 1912
Death: 1934
Beatified By: 29 April 1990 by Pope John Paul II
Canonized By: 21 November 1999 by Pope John Paul II
---
Anicet Adolfo joined the Congregation of the Brothers of the Christian Schools, and was one of the martyrs of Turon, who were slain during a violent uprising that preceded the Spanish Civil War.
The Martyrs of Turon was canonized in 1999. Their feast day is October 9th.
---
---
More Saints
---
---
---
---
---
---
---
---
---
---
---
---
---
---
---
---
---