Bl. Angela Salawa
Short Cuts
Author and Publisher - Catholic Online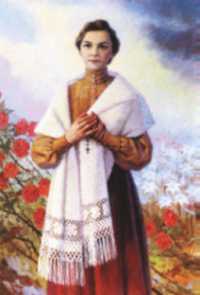 Facts
Birth: 1881
Death: 1922
Beatified By: Pope John Paul in 1991
---
Angela Salawa was born on September 9, 1881 in Siepraw. Angela was the youngest of nine brothers, and grew up undernourished, weak and sickly. In her late teens, she went to work as a servant for a family in Cracow. For almost twenty years, Angela was in domestic service.
In 1913, she became a Secular Order Franciscan. During World War I, she worked in hospitals, tending prisoners of war without regard for their nationality.
In 1917, Angela became ill. After five years of suffering, she died on March 12, 1922, in extreme poverty, but with a reputation for sanctity.
---