Bl. Andre de Soveral
Short Cuts
Author and Publisher - Catholic Online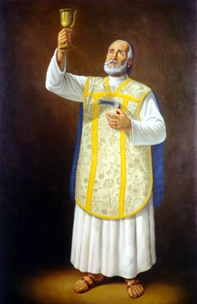 Facts
Birth: 1572
Death: 1645
Beatified By: Pope John Paul II
---
Bl. Andre de Soveral was born around 1572 in Sao Vicente, Brazil, the principal town on the island of Santos. He most likely studied at Children of Jesus College in his home town and it is there that his Jesuit vocation began. He entered the Society of Jesus in 1593 and made his novitiate in Bahia. After studying Latin and moral theology and learning the Indios' language, he was sent to the College of Olinda, a catechetical centre for the Indios throughout the region. He had his first missionary experience in Rio Grande do Norte in 1606 among the Potiguar Indios. On that occasion he entered a native village headed by an indigenous woman, Antonia Potiguara, whom he converted and baptized along with other Indios, and blessed her marriage. By 1614 he was parish priest of Cunhau and a member of the diocesan clergy.
On Sunday, 16 July 1645, Fr Andre de Soveral had gathered for Mass about 69 of the faithful, mostly farmers and workers employed in Cunhau's sugar cane factory.
The Dutch sent one of their emissaries to Cunhau, who presented himself as the envoy of the Supreme Dutch Council of Recife, saying that he would communicate its orders at the end of Mass. But this was merely a pretext, for after the consecration a band of Dutch soldiers, accompanied by Indios, burst into the chapel, blocked the exits and ferociously attacked the defenceless faithful. Fr Andre realized the gravity of the situation and interrupted Mass to urge the faithful to prepare for death. Although he had told the tyrants not to touch the minister of God and the sacred vessels, he was killed by an axe hurled at him by an Indio.
---
---
More Saints
---
---
---
---
---
---
---
---
---
---
---
---
---
---
---
---
---