Bl. Maria Ludovica de Angelis
Short Cuts
Author and Publisher - Catholic Online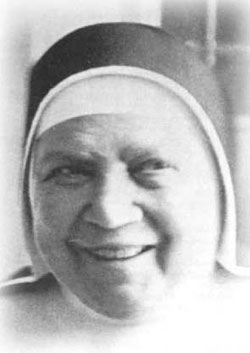 aspiration
of becoming a nun by entering the Institute of the Daughters of Our Lady of Mercy. Antonina took the religious name, Maria Ludovica. In 1907, she was sent by her congregation to Buenos Aires,
Argentina
to serve in a children's hospital, beginning her labors there in the lowly station of hospital cook. She was subsequently chosen to become
superior
of her
convent
in Buenos Aires. Mother Maria Ludovica spent the rest of her
life
in Argentina, serving invalids according to her maxim, "To do
good
to all, no
matter
whom." She died on February 25, 1962.
---