Bl. Kamen Vitchev
Short Cuts
Author and Publisher - Catholic Online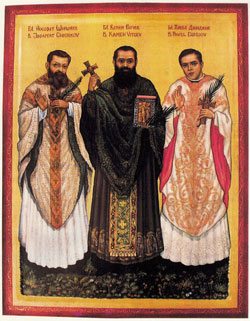 Facts
Feastday:
November 11
Birth: 1893
Death: 1952
Beatified By: May 26, 2002., Plovdiv by John Paul II
---
Catholic
priest. After earning a theology doctorate, he became a faculty member of a
Catholic
college
at Plovdiv, Bulgaria, serving in various capacities, including the office of rector. Taking his responsibilities seriously, he instructed and governed the students authoritatively, earning their respect. During his tenure at the college, students of different religions, including those of the Orthodox and Armenian Churches, Jews, and Moslems, were welcomed into this
Catholic
school and interacted in a harmonious atmosphere. In 1948, the Russian Communists occupying
Bulgaria
closed the school. Thereafter, Father Vitchev was made
provincial
vicar
of his Assumptionist congregation in Bulgaria. But in July of 1952, he was arrested by the Communists, falsely charged with heading a "Catholic conspiracy" against the government. On November 11, 1952, he was executed by gunfire.
---
---
More Saints
---
---
---
---
---
---
---
---
---
---
---
---
---
---
---
---
---
---