Sts. James Nam, Anthony Dich Nguyen, and Michael My Huy Nguyen
Short Cuts
Author and Publisher - Catholic Online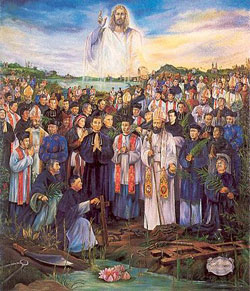 James
Nam served in his native Vietnam as an affiliate of the Paris-based
Society
for Foreign Missions. During the ongoing
persecution
of Catholics under the emperor Minh Mang, Father Nam was sheltered in the home of a Vietnamese
Catholic
farmer, Anthony Dich Nguyen.
Pagan
officials arrested Father Nam and Anthony, together with the
Catholic
village chief, Michael My Huy Nguyen, identified as Anthony's son-in-law (according to one source--other sources differ). To an official who urged him to deny his faith, Father Nam replied, "I have advised the faithful to stay firm with their belief. How can I reject it now?" The
judges
urged the village chief Michael to renounce his
faith
out of consideration for the welfare of his young family. Michael answered: "I love my family, of course, but I believe that if I die now, I
will
be able to meet them again in heaven." Afterwards, Michael's wife and daughter visited him in prison to encourage him in his profession of faith. Father Nam, Anthony, and Michael were executed by beheading.
---
---
More Saints
---
---
---
---
---
---
---
---
---
---
---
---
---
---
---
---