Bl. Joseph-Marie Cassant
Short Cuts
Author and Publisher - Catholic Online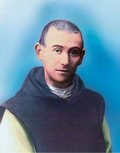 priest
seemed unattainable, but his
parish
priest
encouraged him to consider entering the Trappist Order, recognizing in the young
man
a contemplative disposition. At the age of sixteen,
Joseph
entered the Trappist monastery of Sainte-Marie du
Desert
near Toulouse. The
novice
master, Father Andre Mallet, took
Joseph
under his wing, telling him, "Only trust, and I
will
help you to love Jesus!" Father Andre patiently supported the insecure novice, who was plagued with the fear that Father Andre would give up helping him. Gifted with child-like simplicity,
Joseph
overcame his
intellectual
deficiencies, passing his examinations after suffering repeated humiliations from an impatient theology professor.
Joseph
was ordained a Trappist
priest
on October 12, 1902. Soon afterward, he was diagnosed with advanced tuberculosis. Resigned to his fate, he observed, "When I can no longer celebrate Mass,
Jesus
can take me from this world." He died on June 17, 1903.
---
---
More Saints
---
---
---
---
---
---
---
---
---
---
---
---
---
---
---
---
---