St. Jeanne de Lestonnac
Short Cuts
Author and Publisher - Catholic Online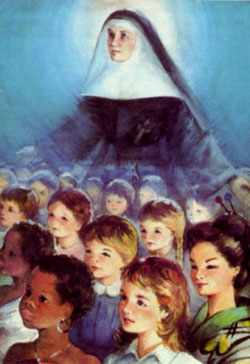 Entering her home, we meet
Richard
de Lestonnac, her father - a counsellor in the Parliament of
Bordeaux
- and Jeanne Eyquem de Montaigne, her mother. Perhaps Montaigne's name is familiar. You
will
have heard, maybe, about Michael de Montaigne, the philosopher who wrote the "Essays" and created a new literary genre. He was Jeanne's uncle; they were great friends and his influence can be seen in her work.
Jeanne, the eldest of the Lestonnac - Eyquem de Montaigne family, was born in 1556. During this century a sharp political and religious conflict was raging. The advance of the Protestant Reformation, led by Calvin's followers, clashed with
Catholic
tradition, and the effects were felt everywhere. While still a child, Jeanne experienced the consequences of the religious differences between her parents. Her father - a fervent
Catholic
-wished to share his
faith
with her and had her baptized. Her mother "was convinced that the greatest benefit she could bestow on her daughter was to educate her in the
religion
of Calvin."
The girl's
faith
was put to the test and eventually gained from the struggle. Jeanne opted for her father's faith. Her first spiritual experience was as if an interior voice confirmed her choice and left an impression on her for the rest of her life.
"Be careful, daughter. Don't let the fire that I have enkindled in your heart, to serve me so fervently, ever die out."
Her desire to serve the
Lord
made her search for models of great women, such as St. Scholastica, St. Clare, St. Catherine of Siena, St.Teresa of Avila... but, considering the situation of religious
life
in France, it was difficult for her to pursue her ideal. When her father proposed that she marry, she took it as a clear sign of God's will.
---
---
More Saints
---
---
---
---
---
---
---
---
---
---
---
---
---
---
---
---
---
---