Mom's Passing Gift - Angel Stories
By: Vicky Zuwala
Location: Otisville MI USA
I was always tagging along with my mom when she would go shopping or visiting with friends and family. I remained close to her, calling her and most times seeing her everyday. Even after I had my children, a girl and boy, and my own home I spent a lot of time with Mom.


My daughter also became very close with my mom. Everyone could tell that Chrissy was the apple of my mom's eye. They had a special connection.


In October of 1991, Mom was diagnosed with terminal lung cancer and went downhill very quickly. I would go fix her dinner and keep her company, doing many of the things she used to do. I just could not phathom that this strong young woman of 51 could die and leave me. I guess that was the biggest feeling I had. She was leaving me.


She made it past Christmas and into March. About a week before my daughter's birthday, Mom went into the hospital to die. She held on as we said Rosaries and she laughed about the leprachaun she saw sitting on the end of her bed. She slipped into a morphine coma and they said she would probably die that day, the day of my daughter's birthday.


I just couldn't have Chrissy's birthday shadowed by that. I didn't want her to remember her birthday as the day her grandma passed away. So I sent her with her dad to see a Brian Adams concert. All that day Mom would start slipping away to only grab on tight and stay alive.


There was a gurgling in her throat that sounded like a song, very continuous and melodic. I have not found that tune yet. I am still looking. But the one thing that did stick out is the unmistakable sound of her calling my daughter's name. By morning, I knew I had to bring my daughter back in to see her.


Just a few minutes after Chrissy arrived and spent time with her, Mom passed breathing out her last spirit freeing breath. I took my kids into the waiting room while they were crying and started to tell them that Grandma was going to go to heaven.


I didn't even get the words out completely when I feel this whoosh inside me like something had just rushed through me and I heard what was a much higher pitch of my mom's voice saying to me, Vicky I am already there! and then she fleeted out of me and around the room in a big swish of opalescent comet like light. I felt the most urgent and sad desire to follow her.
That is the first time I had felt just my soul. She gave me that gift, to see with something other than my physical senses. She gave me the knowledge that what I believed in was true. The story isn't done.


Chrissy was 13 then. When she was 18, she got pregnant. Of course, she was due in early March. But the baby wouldn't come. My daughter went into labor on her birthday to have my grandson the next day, the date my mom passed at almost the same time. Mom was very precious to us and we were given someone else very precious.


This past Tuesday, my daughter gave birth to another son, her third child. He was supposed to be born on December 16, my mom's birthday. Instead he was born on the 13th and will come home tomorrow on mom's birthday.


Happy Birthday Mom. :) I truly believe we are all connected and love follows us. Thank you Mom for my gifts.


---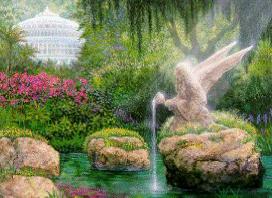 Some may never see with earthly eyes these heavenly beings or know that they exist. Many are unaware of the numerous ways they have protected and guided us. We would like to share with you the stories of people who take pleasure in expressing how real angels are.
---
More Saints
---
---
---
---
---
---
---
---
---
---
---
---
---
---
---
---