Dreams - Angel Stories
By: Michelle Vargas
Location: Carthage NY USA
My brother passed away on June 19, 2006. He was 39 years old. He had a full life. He was blessed to be the oldest of three children. He had his own three children as well and a woman he loved dearly. We had a special relationship. I am the youngest and the only girl, so I was spoiled by him and my parents. He had been sick for awhile but he would be admitted to the hospital and released in a week. When he got sick that last time, my parents thought it would be the same, so they did not call me. I live out of town. Nine hours away to be exact. My husband is a soldier so we move alot. We happened to be at a military ball when we recieved the call. As soon as that phone rang, I knew it wasn\'t good. When I saw that it was my dad calling, my stomach sank. My dad goes to bed no later than 10pm and it was now 2am. When I answered my husband\'s cell phone and my dad told me my brother was not going to make it this time, and I needed to get home, I lost all control. We were 4!
5 minutes from our own home. We went to the hotel room to change and check out right away. We headed for our own home so I could pack and book a flight. I took a shower and layed down on the bed for an hour. I set the alarm and everything. Suddenly I awoke with a start. I looked at the clock and it was blinking. Our power had gone out. I was frantic. I jumped up and ran to my son\'s room and found his blinking as well. I ran downstairs to find another clock and saw that it 2 minutes before the hour that I had set my alarm for. I know that was devine intervention that woke me up that day.I had not slept in 24hrs so for me to wake so suddenly and at the right time? There is no other reason for that. I flew out on the next available flight and got to the hospital a few hours later. I was fortunate to have spent time with my brother before he passed. It was a very hard thing to go through. Since the day he died, I had questions. Why? Where is he? Is he safe? Pain free? I know we learn all about this in church but when this happened to me,!

I couldn't help but wonder. One morning after I had returned to New York and tried to get on with life as usual,I woke up from a dream and I was in tears. The dream I had was about my brother. He was standing in front of me and I was calling to him, but he wouldn\'t turn around. He was talking to a man and asking for someone. The man told him to look outside. My brother asked the guy if he was sure \"she\" was out there and the other man said yes. My brother walked out the door. I was close behind calling after him. He would not turn around. He walked up to a fence and was looking through it. He smiled. He started for the opening of the fence and I was still behind him calling after him and crying by this time. There were all these \"people\" on the other side of the fence and he was so happy to see them. I was calling his name over and over, and he finally turned to look at me. I said \" Come back\" He said he couldn\'t. I said\" Please come back and give me a hug\" He came walking over and gave me hug and I am crying so hard, asking him why and how. He said \" Stop worrying about me, I am fine. I\'m okay.\" Then all the other \"people\" started to leave and he said \" I have to go now. I am okay and I will keep you with me forever.\" That is when I woke up crying. I do believe the \"people\" in my dream were angels. I do believe that dream was sent to me from my brother, to put my mind at rest. I did cry a little more that day, but I have felt a sense of peace since that day. I now KNOW he is happy and healthy again. I was a believer before, I am more so now.


---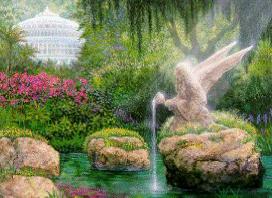 Some may never see with earthly eyes these heavenly beings or know that they exist. Many are unaware of the numerous ways they have protected and guided us. We would like to share with you the stories of people who take pleasure in expressing how real angels are.
---
More Saints
---
---
---
---
---
---
---
---
---
---
---
---
---
---
---
---
---
---