God's Answer - Angel Stories
By: Ashley Nicole
Location: Los Angeles Ca USA
Throughout my life, there have been many times that I wondered if God could hear me. Being about 12 years of age and attending catholic school since I was old enough to attend, I knew that He would always be there for me. I never questioned his existence, but was he listening?


As a younger child, times had always been good. No worries, no family problems, or anything. Around the age of 10, things really started to change. Our financial problems got really bad and my father was always angry and physically abusive. For a period of two years, our situation grew worse with beatings increasing, and the ability to pay rent and be able to eat decreasing. Being young, I could stand the financial strife, but it got to a point where I could not mentally deal with getting beat up anymore. I hated trying to hide it, feeling ashamed, and I honestly just wanted to die so I wouldn't get hurt anymore.

I prayed and placed my faith in God, and one day, the prayer got answered. My father was consumed by his rage and had his sights set on me. As he rushed after me, I ran to my room and shut the door. There was no lock so I could only push against the handle and door and hope he wouldn't make it. As I pushed, a light came over me and there was a force helping me push. The glow was almost blinding. The door split down the sides and became locked and he couldn't get in. For a moment, I was stronger than him, with the help of my angel.


It was this angel that helped me to gain enough confidence to stand up for myself. Later that year, I obtained a restraining order and although things got worse for a while, they eventually became better.


Sometimes we may not always get what we pray for, but we must never forget to have faith and hope. And to my angel, you will never be forgotten.


---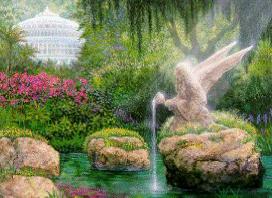 Some may never see with earthly eyes these heavenly beings or know that they exist. Many are unaware of the numerous ways they have protected and guided us. We would like to share with you the stories of people who take pleasure in expressing how real angels are.
---
More Saints
---
---
---
---
---
---
---
---
---
---
---
---
---
---
---
---
---
---