The Feather Duster - Angel Stories
By: Lee Zelhart
Location: Salem IL USA
After having driven my first car, a Valient, for several year, my wife and I were expecting our first child. My parents talked us into buying my grandparents Duster, more particularly a Feather Duster, as my grandfather no longer was able to drive. The car had been setting in their garage for a year.

Well, we bought the car and were having trouble with it because, as we later found out, the carberator had gone bad while the car was not being driven. We would sometimes have to call to have someone help get the car started. Not good when you have doctors appointments to get to.

Anyway, since I wanted to go in with my wife we were told we would have to take birthing classes, but where I worked at the time, a magazine bindery, it was hard to get time off for that and the only way to take the class would have to be a one day class on a Sunday. The hospital we would be going to had those on occassion.

I called about the class and was told they didn't plan any classes soon. Then a few days later we got a call they were having a class on the next Sunday and had an openning for one more couple, would we be interested?

We got to the hospital that Sunday and went through the class. Outside I tried to start the car and couldn't get it started. I thought we were in trouble as there were no service places in our area open on Sunday evenings.

Just then someone in a white hospital uniform drove up and pulled into the only space which was beside us. The man got out and said it looked like we were having car trouble. He got out a set of jumper cables and hooked our car up and helped get the car started. Then he drove off.

Neither my wife, nor I saw a name on his name tag and we didn't see where he'd gone. When we got home I called the hospital and asked the nurse to thank whoever it was, but when I described the man she told me they didn't have anyone who matched that description there. I and my wife always afterwards thought it must have been a guardian angel.


---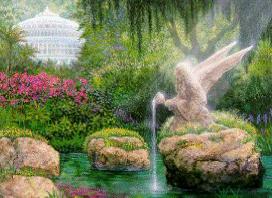 Some may never see with earthly eyes these heavenly beings or know that they exist. Many are unaware of the numerous ways they have protected and guided us. We would like to share with you the stories of people who take pleasure in expressing how real angels are.
---
More Saints
---
---
---
---
---
---
---
---
---
---
---
---
---
---
---
---
---
---