An Answer to Cheer Me - Angel Stories
By: Christine Chiomento
Location: Deepwater New Jersey USA
I don't have just one incident in which I am positive that God sent at least one, or even more, of His angels to cheer me, or comfort me, or even to inform me--because, for reasons only known to our heavely Father, I have had several--each one may seem smallish in size, and significance, but are so big, filled with God's Love, to me. But, I will just recount one of them, here.


On the first occasion that I can ever remember even wondering about the identity of the person in question, it was my very last day of high school. I had been so painfully shy all through grade school, never dating in high school, and staying to myself most of the time. I knew most of the kids that I went all the way through high school with, yet I was just way too shy, and socially awkward, to even try and mingle--so, I went to school mainly because I had to, and so that I could eventually graduate, and get on with my life.


During that last afternoon of my 12th grade year, I was with lots of other girls, whom I knew, at least by sight, and we were all gathered around the mirror, in one of the girl's lavatories. We were all putting on lipstick, or combing our hair, while waiting for our buses to arrive. Most of the girls were chatting with one another--I just stood, fixing my hair, not saying anything, as usual.


Finally, all of the girls left, but one. And, I never really looked at her very much, since I realized that I had never seen her before. I just assumed she was a fairly new student, and that was why I didn't recognize her. Suddenly, just before she walked out the door, she turned to me, and said, out of the blue, "You know, alot of the boys liked you, and they would have asked you out on dates, but they didn't because they always thought you were stuck up."


I was so totally surprised at what she'd just said--especially considering that I could remember ever seeing her before in my life! But, she had just answered one of my very biggest, unspoken, heartfelt questions, as to why no boys in school had ever even seemed to know that I was alive. This stranger had just let me know why boys my age, had not asked me out, for those 4 whole years of high school!


To this day, I am still so very grateful to her, for telling me what she did. But, it took many years before I realized just Who must have sent her, that day, to tell me what I had so secretly longed to know!




---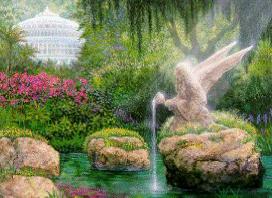 Some may never see with earthly eyes these heavenly beings or know that they exist. Many are unaware of the numerous ways they have protected and guided us. We would like to share with you the stories of people who take pleasure in expressing how real angels are.
---
More Saints
---
---
---
---
---
---
---
---
---
---
---
---
---
---
---
---
---