I'll Always Love You, I'll Never Leave You - Angel Stories
By: Elva Herrera
Location: El Paso Tx USA
My experience, one of many, but the most beautiful yet happened during the most difficult time in my life to date. I was 6 months pregnant with my 2nd child and we had just been told that my father had less than 1 year to live. He had "Mesothelioma" terminal cancer of the lungs. This took me into a very painful depression. I'd always been brought up to love myself as a person and for who God had made me, not in a vain sort of way. If there was a problem face it and deal with it, just a complete positive way of looking and dealing with life. I was also about to graduate (my final semester) as a social worker and to me people who were depressed just were a bit weak emotionally and were not strong mentally. All one had to do was think and see things differently & voila you can handle depression. That was my view before I faced it myself. My bout with depression was something that even my positive attitude could not handle. It was painful, not physical but spiritually, my heart hurt, my soul was in pain and I had no control over it no matter how hard I tried.

I would get home everyday after my social work field practicum and just go to my room and cry. I'd scream and cry.
I couldn't turn to my family because we were all dealing with the issue of my father dying. I had to be strong for them. I had to be strong for my baby on the way. I also had a 3 year old little girl who needed me, but all I wanted was for God to take me away from it all. I would never think of hurting myself nor do I believe in suicide, but I wanted God to take me in his own way. The only thing that kept me going was my 3 year old baby and the one that was on its way. This last day was the worst of all. I got home and went to my room to cry. No one was at home, my husband was at work and my 3 year old was at my mom's. Suddenly as I was face down on my bed sobbing, I heard the most beautiful voice. It filled the room. I cannot say it was male or female but just beautiful and full of love. I can almost say it sounded like an echo which filled the room.


The voice said, "I'LL ALWAYS LOVE YOU, I'LL NEVER LEAVE YOU." Needless to say I jumped off the bed startled and suddenly realized that this was either the voice of God or my angel. Whoever it was from that instant my painful depression disappeared. I, along with my family dealt with my father's illness and eventually with his passing. Yes, it was painful and we've mourned, but it became part of God's plan and accepted as such.


I kept this experience to myself for several years. I thought it was my special message and was selfish with it, until one day I encountered a soul in the same pain that I had experienced. I suddenly realized that it was not just a message for me but for me to share with those who needed to hear his message. Today I only share it with certain people when I sense it is okay to share. Not everyone benefits from this and to me this experience has a message and not just to anyone.


Prior to this, I've had beautiful experiences and I've always believed in angels. This experience re-affirmed my beliefs, my faith, and my convictions when it comes to my faith in God.


---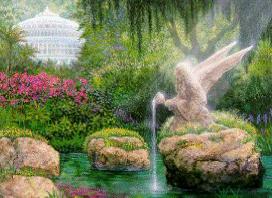 Some may never see with earthly eyes these heavenly beings or know that they exist. Many are unaware of the numerous ways they have protected and guided us. We would like to share with you the stories of people who take pleasure in expressing how real angels are.
---
More Saints
---
---
---
---
---
---
---
---
---
---
---
---
---
---
---
---
---
---