MY MOM - Angel Stories
By: MARIBEL GONZALEZ
Location: PHOENIX ARIZONA USA
MY MOM IS 55 THIS YEAR AND WHEN SHE WAS 53 SHE WENT IN FOR A MINOR SURGERY AND SHE WAS GOING TO BE OUT OF THE HOSPITAL IN 2-3 DAYS BUT IT DID NOT HAPPEN. WILL IN THE HOSPITAL MY MOTHER ENCOUNTERED OTHER DIFFICULTIES AND WAS UNCONSIOUS FOR ABOUT A MONTH AND A HALF AND NOTHING COULD GET TO HER. IT WAS LIKE SHE DID NOT WANT TO LIVE AND WE WOULD GO TALK TO HER COMB HER HER AND JUST BE BY HER SIDE AND TELL HER HOW MUCH WE NEEDED HER. BUT NOTHING WOULD MAKE HER REACT. THERE CAME A TIME WHEN I KIND OF FIGURED SHE WAS NOT GOING TO MAKE IT, AND WE MADE A REGULAR ROUTINE FOR THAT TIME THAT WE WOULD LEAVE SOMEONE WITH HER WHILE I WAS A WORK AND GO STRAIGHT FORM WORK TO THE HOSPITAL. WILL ONE DAY I WALKED IN AND MY SON WAS COMBING HER HAIR AND SHE WAS SITTING DOWN AND I GO IS IT YOU MOM AND I WAS SO EXCITED TO SEE HER SITTING AND THEN SHE SAID YES. I GO HOW WHAT HAPPEN AND SHE SAID SHE HAD GONE BUT THAT MY GRANDPARENTS (DECEASED)SENT HER BACK. AND I ASKED WHAT HAPPENED AND SHE SA!ID SHE WAS AT A BIG ROUND TABLE WITH BOTH HER PARENTS AND THEY TOLD HER SHE WAS STILL NEEDED DOWN HERE BY HER GRANDKIDS AND SHE STILL HAD THINGS TO ACCOMPLISH. SO SINCE THAT DAY I THINK MY GRANDPARENTS ARE TAKING CARE OF MY MOM.
GOD SENDS ANGEL IN MANY FORMS AND I THINK MY GRANDPARENTS GUIDED MY MOTHER AND TAKE CARE OF HER.


---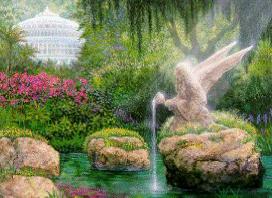 Some may never see with earthly eyes these heavenly beings or know that they exist. Many are unaware of the numerous ways they have protected and guided us. We would like to share with you the stories of people who take pleasure in expressing how real angels are.
---
More Saints
---
---
---
---
---
---
---
---
---
---
---
---
---
---
---
---
---
---