Angel encounter - Angel Stories
By: Stephanie Fulton
Location: Calgary Aberta USA
Several years ago now in 2002-2003
Homeless and sitting on the curb of a sidewalk > I cupped my hands and bowed my head and asked god. I asked God, its e again god. My belief was weaking and I asked God, will you show me a sign so I will know you are here. I got up and walked down the sidewalk and there to my right in the air was this most beautiful angel hung in the sky .I heard "I am Here"

I continued into a shreet shelter and sat down at the table facing the place where I seen the beautiful angel in a long white dress an hair of gold and white wings spread out wide. I asked again: "God, I seen her and I think I am seeing things would you please show her again?" She appreared again and I heard I am here" This beautiful angel appeared again and my faith restored and I decided to try to become a better christian and am now tring to join the Catholic Church. Where I feel the warmth and the presence of My God is the strongest. God Bless Us All.


---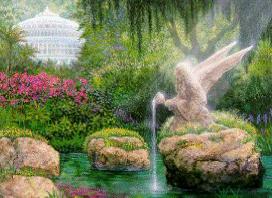 Some may never see with earthly eyes these heavenly beings or know that they exist. Many are unaware of the numerous ways they have protected and guided us. We would like to share with you the stories of people who take pleasure in expressing how real angels are.
---
More Saints
---
---
---
---
---
---
---
---
---
---
---
---
---
---
---
---
---
---