Army of Angels - Angel Stories
By: Roselia Nevarez
Location: SALT LAKE CITY UT USA
around 3:oo am one morning about a week before the sept 11th tragedies I awoke to use the bathroom, after returning to my bed I started to pray for sleep would not come, when all of a sudden I realized that my bedroom was full of tiny lights like that of fire flies however smaller. curious as I sat up leaning on my pillow I watched as my bedroom became open my room was no longer a room but some wide open space I cannot describe. little by little the tiny lights became larger and starting to form figures. as I watched in awe I realized that the shapes which were forming were actually angels giant like angels beautiful angels, appearing to walk but as I looked down at their feet they were not touching the ground as they moved. I was trying quite hard to grasp everything that I was witnessing I actually believe that my head was going from side to side as I was watched what by now was a great army of angels which I will descibe. and continue my story because it still makes my heart pound as I relive my vision. after the shapes started to form into these incredible beings I imediately noticed the tall beautiful angels with their wings so large up over their shoulders and then again forming perfectly shaped wings going all the way to the ground or floor but not quite touching the bottom. the color white is not a white I have ever seen but almost illuminating white with a transparent like texture the wings themself were thick so soft looking. perfectly outlined each feather on the wings which I don't think are feathers were just perfect like detailed they had long beatuful robes, I tell you now that I feel overwhelmed when I write this and every detail about them was just so beautiful. these angels all looked like each other I can see them all the same however their own beings, they had almost curley hair like yellow but not. I remember they looked as if they were all the color of transparent but very fair. I somehow got a message that the angles are neither male or female although both I don't to this day understand. they were all marching in a line in pairs of two. their left arms were bent close to their chest holding with their hands a gold with siverish shiny sheild, while their right hand were holding tightly a long sword I somehow got the feeling that the sheilds
and the swords were unbreakable in every way. while I was closely absorbing their every detail I know they were marching as I said I looked to the left of me to see where they were marching and I could only see that there was not end to to line ahead. I looked to the right to see where the line was coming from and again I saw that the line was as far as far because all I could see was that the line from begining to end was never ending. I know also that there was a constant druming not like anything I have seen or heard not even the old army movies. but more like a tum,tum, tum, on and on as the march took place. at some point I feel like I came out of a trance of some sort and asked does this mean that I am going to die? as soon as I asked this, one of the angels turned directly at me and I heard with out it's mouth moving, answer do not worry everything has been taken care of you are protected.while this angel was talking to me I saw that it was still marching but somehow still in the same place. the angel went on to tell me that this night others were expeirencing the very same vision as I. that they were solders sent by God and they are marching preparing to protect us all and that everything was for a reason and they were right in the front line. they were very brave and very holy they will win the war in the end it is the big war this angel told me that we should let them fight the war because it is there war not ours. they told me they would protect us to stay behind them to do all that is of God and in the end it will turn out goodl they continued to march and I sat up on my bed untill they march so far that they started to fade into what seemed like a light cloud. untill lone by one they were all gone and all of a sudden my bedroom was once again my bedroom, I sat still for a few moments and my heart wanted to burst it felt as if my chest was on fire I was so overwhelmed by this experience and after I no longer saw them I begin to cry with so much saddness, and the rest of the day went over and over my experience, there are a couple of things from this story that I don't understand. when I cried I told my God that I was not worthy of him allowing me this experienc and I went on ask why me I have not ever understood but I know what I saw I have shared this story with few that know that I am not crazy.

This happened to me one early morning and I have relived it over many times the angels also told me that I must share this story to many. and some will understand the marching the truth,


---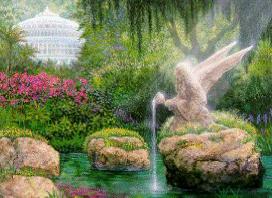 Some may never see with earthly eyes these heavenly beings or know that they exist. Many are unaware of the numerous ways they have protected and guided us. We would like to share with you the stories of people who take pleasure in expressing how real angels are.
---
More Saints
---
---
---
---
---
---
---
---
---
---
---
---
---
---
---
---
---
---