A Healing Hand - Angel Stories
By: Dave Ludwick
Location: Edmonton Alberta Canada
In 2001, I had had enough. As a busy senior manager, very successful in my job, I was anything but successful in my heart. I thought I had mastered anxiety and success, but it had mastered me.


On Novemebr 14, 2001, while sitting in front of the TV on a Saturday with my laptop in hand doing work for my company that I hoped would make me appear more valuable to my boss, a TV commercial came on. It was an advertisement promoting powertochange.com . Several of the sites testimonials were presented on TV in front of me.


You see, to this point, I was in the process of considerable and relenting anxiety attacks. For some one who was supposed to be so successful, I was sure losing the battle.


In seeing that commerical, after years of anxiety, I decided to navigate to the site, read some testimonials and followed the directions to call Jesus into my life. Angels had prepared that site in advance, for when I read those words, it was like He was speaking to me personally. That was the beginning of the first time Jesus' Healing Hand came apparent to me. On that day, I asked Jesus to come into my life, and I pledged my life to him. I gave him my life on one condition - that he would sweep away all my anxiety.


I'd like to say that that very morning, I was completely anxiety free, but it was not. I did experience improvement immediately, but the next two years were still very difficult. What happened next though changed my life and that of my son. Looking back, it was the trial that helped me mature as Jesus intends.


In June 2002, I was let go from my job - the very job I had slaved for. Despite the anxiety, I stayed committed to Jesus, and I believe in his commmittment to me. After a hard working summer, he granted me a new job in a different town, far far away. My wife and I decided to take the opportunity and move. It was the right move.


In Sept 2002, we arrived. However, fresh off the plane, our baby son, who was now 6 months old, was experiencing some health problems. The health issues manifested themselves like a cold or virus, but they seemed much worse. The boy would not sleep, and I mean not sleep at all - at all. Further, he was white and this fella who was normally very happy, was not smiling. After taking him to a few clinics in my first few days of work, my wife decide she better take him to a hospital. WHat happened next drilled a hole in my heart.


The doctors told us our son had a rare disease which attacked the heart. He had already developed a heart aneurysm and would be expected to develop more. A heart aneurysm is a widening of the vessels around the heart. Widening the vessels slows the speed of blood flow, which if allowed to get too slow, causes clotting which could end up giving him a heart attack or a stroke. The doctor's prognosis was not very good. He said our boy was on the way out.


So here I was, I had given my life to Jesus, he had moved us to the other side of the country, in a strange place, with a strange job, and now our boy was being taken.


On the way out of the hospital, I prayed to Jesus. I said that He had given us this boy and that we loved him and as I had pledged before, I would follow his will and do what ever he wanted no matter what, but I asked him to save this boy's life.


I want to tell you, the next day -- the boy was cured, fixed, happy, healthy. The doctor's could not explain the evets. I am telling you this occurred over night. Our Jesus sent his Healing Hand a second time, this time to heal my son's heart. Great is our Lord Jesus Christ, the Son of the Living God who heals.


Looking back, I beleive this period in my life was a test. Having passed the test, I literally live a worry free life. I am very lucky to have the fortune of seeing a website prepared by angels, who led me to follow Jesus.


---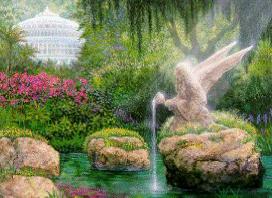 Some may never see with earthly eyes these heavenly beings or know that they exist. Many are unaware of the numerous ways they have protected and guided us. We would like to share with you the stories of people who take pleasure in expressing how real angels are.
---
More Saints
---
---
---
---
---
---
---
---
---
---
---
---
---
---
---
---
---