Watching over me - Angel Stories
By: Dick Baker
Location: Saginaw MI USA
Oftentimes we don't realize there is a power watching out for us, until we reflect back on our lives and see the twists and turns that our live takes.
I have all my life been blessed with good health. Have been blessed with a wonderful wife and 2 fine children, have always been blessed with good jobs to support my family. I had a job with a company for 25 years when in 1996 I lost it due to downsizing. Needless to say I was very upset about this. Well, I decided I would be an over the road truck driver as my skills were as a machinist and manufacturing was drying up. I went to truck driving school and obtained my CDL and hooked up with a trucking company in Tennessee. I was with a trainer for 3 weeks and came to the realization that truck driving was not for me. I had very little (none) time for myself, so I left that and came back home to Michigan. My wife and I talked about what to do, and talked to my son who lived in Washington state. He said that Boeing had so much work they were hiring all the machinists in the area and machine shops were begging for workers. Well my wife and I moved out to the Seattle area after securing a good paying job, sold our home and off we went.

We moved out there in fall of '96 and in the spring of '97 I had an appointment with a doctor to have my annual physical, but first I had to fill out a history for him. While discussing this history with him he asked why I take 12 aspirin a day. I told him my father had died of an aneurysm and my doctor in Michigan said to do this to keep my blood thin. Ihad been doing this for 15 years. This doctor asked if I'd ever had an ultra sound to check for an aneurysm, I said no, as my other doctor had not suggested it. Well I had the ultra sound and it showed I did not have an aneurysm, but it showed I did have a tumor in my right kidney. I now had to see a urologist who set me up for a biopsy. The biopsy showed it was malignant, but as luck (or something else) would have it the cancer had not spread. I had surgery within the week and had the kidney removed and was back to work in 3 weeks feeling great. Recovery was great. I now had to once a year get an ultra sound on my remaing kidney to make sure there would be no bad things on that. That fall we moved back to Michigan as we never could get used to all the rain in the Seattle area.

It was on October 1st of 2004 I was walking my dog when I coughed and spat up blood. I got in to see my doctor and she thought I had a sinus infection and prescribed antibiotics to clear it up. She also wanted to know when my last chest xray was. She scheduled me for an xray and it showed something there, so then I went for a cat scan and it showed a big tumor in my left lung. I went in for a biopsy and it was cancer, but, it hadn't spread (luck)? I underwent 7 weeks of radiation that knocked the tumor down 75%, then 3 months of chemo that finished it off. I always felt good, never sick all during the treatments. I have a cat scan every 3 months to make sure it hasn't come back.
I really, firmly believe that I have an angel watching over me to keep me well until I do whatever I am supposed to do in life.


---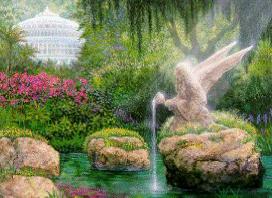 Some may never see with earthly eyes these heavenly beings or know that they exist. Many are unaware of the numerous ways they have protected and guided us. We would like to share with you the stories of people who take pleasure in expressing how real angels are.
---
More Saints
---
---
---
---
---
---
---
---
---
---
---
---
---
---
---
---
---
---