no title - Angel Stories
By: Maria
2005 was a very painful year for this family. My father-in-law has been sick for a very long time and wheelchair bound, he was a very proud man and never liked the fact that he had to depend on the whellchair as well as the help from family members on occasion. The doctors have said many times that he was "living on borrowed time". He did so for over 20 years and we felt blessed to have him with us. 4 years ago his younger brother died of cancer and we were there at his last moments. Dad was very hurt and deeply upset about the whole thing, he kept saying that should have been him there in the casket not his brother. Yet again we felt blessed that he was still with us but felt a great deal of sorrow at the same time.
Loss and pain has not been a stranger to this family for a long time. Mom and dad lost their first born daughter at the very young age of 15, to a brain hemorrhage and throughout the past 20 years dad has been in and out of the hospital surgery after surgery and yet his heart was still holding strong.
This family, being a very close, we knew the reason dad was not ready to leave mom behind, he loves her so very much. So illness after illness he kept on going. He made it to their 50th. Wedding Anniversary and months after the celebration he started getting very sick again, but he had fooled us so very many times before that we could not let ourselves believe that he was going to leave us. At the same time just 2 months before their Anniversary his other daughter found out that she has cancer. She never said anything to anyone other than her husband, after all she did not want mom and dad upset on their 50th. Anniversary. It must have been so very hard for her to keep it to herself and not have the family to support her, but that is just the kind of person she is, never complains and always worried about everyone else. For 9 months dad was in the hospital more than he was out and again the doctor's marvaled at this man's strength and endurance. His heart was so very badly damaged they did not understand how it was possible for it to be still beating. He certainly was a very strong willed person, but in April of 2005 his heart gave in and stopped, but only after all the family members arrived from Toronto and Sudbury, to say their last good-bye. Since than, my sister-in-law has also closed her eyes for ever a week before Christmas 2005, again she waited for her sister to arrive from Sudbury before she took her last breath and died peacefully,at her home surrounded with family. I have felt both their presence around me every day, and I know that they are surrounded with angels and waiting for us to meet each other, again one day.


---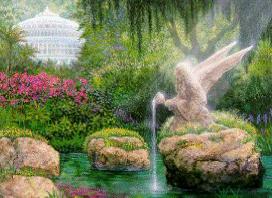 Some may never see with earthly eyes these heavenly beings or know that they exist. Many are unaware of the numerous ways they have protected and guided us. We would like to share with you the stories of people who take pleasure in expressing how real angels are.
---
More Saints
---
---
---
---
---
---
---
---
---
---
---
---
---
---
---
---
---
---