Garrett's Angels - Angel Stories
By: Donna Benedict
Location: Scammon KS USA
We were to have this wonderful blessing in our lives.


We had a baby that was due June 12. We knew he was to be a boy of course with all the technology of today, how could we not know.


The technology of today did falter one slight bit, only because during the routine sonogram, his heart was not totally visible but yes of course there was the four chambers of the heart. And in the womb was functioning properly.


In April, "my water broke". I was taken by ambulance to the nearest hospital that had a NICU. Knowing we were going to have a child that was to be terribly early. About 11 weeks.


He was going to need special care.
By God's grace I was able to carry him until the 31st week. Only 9 weeks early. He weighed 4 lbs. 8 oz. a wonderful size for a preemie. He was doing wonderful, breating on his own.


I was able to hold him one time.


Disaster hit. 24 hours after he was born, that little heart had a problem. It is officially called hypo-plastic left heart syndrome. Which is a fancy word for saying that the entire left side of his heart did not develop. Yes, there were four chambers, but the left side was so small that it did not function at all.

He was rushed to a more intensive NICU that where he was born.

I would have left even if they had not properly dismissed me.

I called our parish priest, he did of course make the 2 1/2 hr journey at the sound of our voice. We prayed, he was baptized, we prayed more.


The next day the doctor basically told us that there was no hope. He had no body functions whatsoever.


Again, at the drop of the hat, I called our priest and he came.


As we turned off the life support, the nurse pulled the curtain around us and and at that moment I felt the wings of angels encircling us. It was as if they were there helping us through the most difficult time of our lives.


Then, Father said the most wonderful thing. He said, "Wow, I am witnessing the most wonderful thing on this earth." At first I didn't know what he was meaning, then he continued, "Can you imagine going from the safest place in this world, Your Mother's arms, to the safest place there is? God's arms???"


At that moment I understood. I know that Garrett's angels were there to comfort me and my family.,br>

Even though we only had him 3 days, I know he is now that saint in heaven that will be there waiting for me to come to him again, and be in the arms of God with him.


---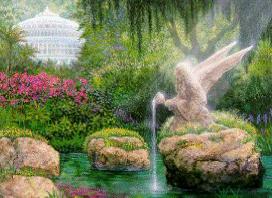 Some may never see with earthly eyes these heavenly beings or know that they exist. Many are unaware of the numerous ways they have protected and guided us. We would like to share with you the stories of people who take pleasure in expressing how real angels are.
---
More Saints
---
---
---
---
---
---
---
---
---
---
---
---
---
---
---
---
---
---