The Voice - Angel Stories
By: Camilla O'Brien
Location: Cross Plains WI USA
I was married in 1985 at the age of 18. I married a boy I had known since the age of 5. We had some problems and separated in 1987. It wasn't my choice to separate, and I still loved him very much.
I moved in with my mom, and Howie moved in with his parents. I worked third shift at a hotel about an hour from my mom's apartment. I had to pass Howie's mom and dad's house on the way to and from work.
One morning, on my way home around 6 a.m., I stopped at a four way stop. There was a horrible accident across the road. There was a car in the ditch and it was upside down. All you could see were the tires and alot of smoke. The firecrew and ambulance crew were there. Like any passerby, I was going to stop and walk over to the accident scene. As soon as the thought came into my head, I heard a voice, it said, "Go home. Do not stop here. That is Howie in that car. Just go home." I listened to the voice and when I passed Howie's mom and dad's place, I saw a strange white car parked in front of the house, but Howie's truck was parked in the driveway, so I thought I must have imagined what I had heard. I went on home and at 9 a.m. that morning, the doorbell rang at my mom's place. It was the town police officer asking me who Howie's last dentist was because he had been in an accident that morning and they needed his dental records to identify him. The accident had been terrible, and he had been driving his mom's car, which is why his truck was in the driveway. He had been burned beyond recognition. I am thankful to The Voice for not letting me get out of the car.


---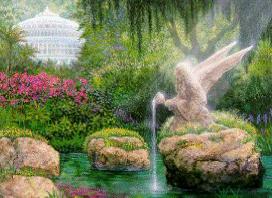 Some may never see with earthly eyes these heavenly beings or know that they exist. Many are unaware of the numerous ways they have protected and guided us. We would like to share with you the stories of people who take pleasure in expressing how real angels are.
---
More Saints
---
---
---
---
---
---
---
---
---
---
---
---
---
---
---
---
---