Saved by an Angel - Angel Stories
By: John Wagner
Location: Lisle
It was late Spring about 1962 or 1963. I can't remember for sure. I just know I was very young (2nd or 3rd grade). Our Church had completed a year or two earlier, a new Youth Center. In addition to the gymnasium inside along with other activity rooms, there was a blacktop basket ball court outside. Since the varsity team was practicing inside, we played outside on this warm Spring day. As we played the ball rolled away and went across the street next to the court (about 40 feet). The street behind us was a very busy street, but this side street wasn't, and there was a 4-way stop at the corner. I remember looking both ways and then running across the street. As I was about to pick up the ball I felt mild pressure on my right side and hip. All of a sudden I found myself on all fours, and the basket ball I was about to pick up was 20 feet away. As I ran to pick up the ball a man who was now stopped on the side street got out of his car and ran up to me to ask if I was okay. I had no idea what he was talking about. He just said,"I stopped! you ran out in front of me!" (he was driving a 1958 model, so if you are old enoughto remember, you know how big those cars were back then). I still didn't know what he was talking about, but happened to look across the street and there were my 4 friends with their mouths open and jaws dropped. I then told this very anxious man a couple more times I was okay and ran back across the street. My friends still stared at me and asked if I was okay. Again, I was clueless as to what they were talking about. They finally told me I was hit by this car and flew 20 feet in the air (distance not height). I told them they were nuts, but they all claimed to have seen it happen to me. Two of them then ran inside our Youth Center where my mom was working. They told her I was hit by a car, but seemed to be okay. I walked in a moment later and my mom just thought they were pulling her leg. I was petrified that I was in trouble for be hit by a car, but since I still didn't really believe it, my mom was convinced my friends were pulling a practical joke on her.


A few of us still get together once a year, and last summer I asked one of the guys who was there that day if he remembered. He did and told me the whole story all over again.


Although I realized this miracle of my Guardian Angel many many years ago, I know first hand, that my Guardian Angel saved my life that day.


---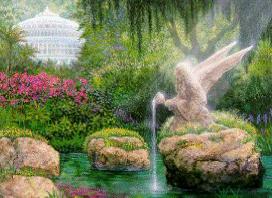 Some may never see with earthly eyes these heavenly beings or know that they exist. Many are unaware of the numerous ways they have protected and guided us. We would like to share with you the stories of people who take pleasure in expressing how real angels are.
---
More Saints
---
---
---
---
---
---
---
---
---
---
---
---
---
---
---
---
---
---