An Angel in my Kitchen - Angel Stories
By: Joycelyn Smith
Location: New Orleans Louisiana USA
I was a teacher in my ninth year of teaching and there was a secretary at the school who would snatch the attendance book and give me circles. Circles are marks that would indicate when you were late for work, only I was rarely late. The lady just gave me a hard time and no matter how hard I tried to treat her nice she would find a way to harass me.

When she had me report to a meeting for missing a faculty meeting to find out what went on I was devastated because this was unheard of .

I cried all the way home and wanted to quit my job. As I was preparing dinner I asked God what to do because I was so depressed. At that moment a lady standing in my kitchen with grey hair smiled and told me not to worry . She said she is very predjudice thats all.
I immediately felt relieved and she turned and went into my hallway. When I followed her she diaappeared.

I thought this was so strange but I felt so good I welcomed the experience and tme lady in the office at work changed . She suddenly became so kind to me I could not beleive it.


---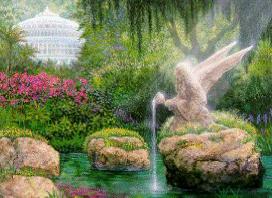 Some may never see with earthly eyes these heavenly beings or know that they exist. Many are unaware of the numerous ways they have protected and guided us. We would like to share with you the stories of people who take pleasure in expressing how real angels are.
---
More Saints
---
---
---
---
---
---
---
---
---
---
---
---
---
---
---
---
---
---