War in Heaven - Angel Stories
By: Yohan ben Mich-el
I was in the basement of a friends house watching him and his buddy plan madden (a football video game). Suddenly an angel appeared on the screen, an androgynous being made completely of light, similar to the intensity of moon light, with light pulsing through it. If you hold your hand under glass with rain running over the glass, this is how the light appeared to flow through this angel. At first I looked down immediately, assuming my eyes were playing tricks on me, but when I looked back the angel spoke.

"Believe what you see."

Then I bore witness to something which can only be described as ultra violent. In the background men in red, stretching all the way to the horizon, were shouting "Allah Ackbar". Men in black were fighting them and losing. Then, one of the men in black killed all the enemies surrounding him and pumped his fist into the air and shouted something. Suddenly the colour of the black men changed to green and not one was slain.

This is a microcosm of the vision. You may claim I was only watching football but if only you could sense how serious this was meant to be. I was shocked.

I believe this is a war between men where the Almighty will be proved. Do not doubt, these events occur after death but before judgment, at least this was the meaning I took from it. A war in heaven.
---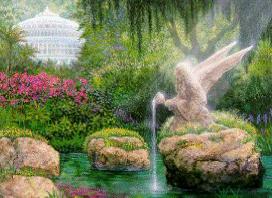 Some may never see with earthly eyes these heavenly beings or know that they exist. Many are unaware of the numerous ways they have protected and guided us. We would like to share with you the stories of people who take pleasure in expressing how real angels are.
---
More Saints
---
---
---
---
---
---
---
---
---
---
---
---
---
---
---
---
---
---