An angel who came in a dream - Angel Stories
By: Janet Lachance
My daughter in law Maura lost her beloved mom on March 16, 2006.

The previous holiday season 2005 was a particularly joyous one, when my son Chris and his wife Maura announced that they were expecting their first child the following August. Sadly, my daughter-in-law suffered a miscarriage shortly after the announcement. We were all deeply saddened by the loss of this much-wanted baby. Maura's mom, Gerry, was alive then and she offered loving support to her daughter and my son, and helped immensely during their process of healing. When Gerry died unexpectedly on March 16, 2006 of cardiac arrest, the family was once again devastated.

Months after Gerry's death, I dreamed that she and I were dancing in a green field to the tune "Miracles" (by Jefferson Starship.) Gerry held a blonde, blue-eyed little boy as she danced. I recanted the dream to my daughter-in-law and son, detailing the fact that in the dream both Gerry and I were wearing flowing hippie-style shirts. I should mention that I actually own the peach-colored shirt that I was wearing in the dream, and that the morning after the dream, when I turned on my car radio, the song "Miracles" was playing.

Months later when the family was feeling stronger, Maura and her siblings went through their mom's belongings, and gathered some sweaters and shirts that they thought I might be able to wear. They delivered these to me at their next visit. I could hardly speak when I found the IDENTICAL shirt to my peach-colored one that I'd worn in the dream--the one Gerry was wearing, only in an ivory color. It was the same to the tiniest detail of embroidery, with two hearts intertwined on the back shoulders. The tags were still on it.

The following year, Chris and Maura again announced a pregnancy. This time, the pregnancy culminated in the birth of my beautiful grandson, Keegan. He is 17 months old now, and he is the blonde blue-eyed little toddler that Gerry was dancing with in my dream. I am sure of it.

We miss Gerry more than words. Three years ago today we lost her, but she found a better place, and she still comes to us with "miracles."
---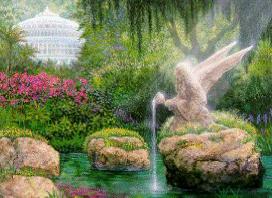 Some may never see with earthly eyes these heavenly beings or know that they exist. Many are unaware of the numerous ways they have protected and guided us. We would like to share with you the stories of people who take pleasure in expressing how real angels are.
---
More Saints
---
---
---
---
---
---
---
---
---
---
---
---
---
---
---
---
---
---