The family angel - Angel Stories
By: Julie Brown-Williams
I have had many angel encounters throughout my life. Several have saved my life or the life of a loved one. This is one of my favorite stories of how angels can watch over entire families, not just one person.

I was at work, suddenly I felt this overwhelming fear. I got up and started turning in circles. My co-worker Sharon grabbed hold of me and held me tight. I was shaking and saying over and over "I have to go home, something is wrong something bad is going to happen". This lasted for about seven minutes. Sharon would not let me go and then suddenly the feeling left me. We looked at the time and it was 1:45 in the afternoon, the feeling left me at 1:52.
I suddenly knew that everything was okay. I was working in a location that had no land line phones and this was before cell phones, so I could not call my husband and check on him.

I finished out my day at work and as I drove up to my home there were several police cars in my driveway. At exactly 1:40 pm that afternoon my husband who works out of our home felt the need to go to the store. He left the house for fifteen minutes. While he was gone five very aggressive men took an ax to our door, kicked it in and rip out vcr's, t.v.'s and several other items. They were caught and the police officer came by the house with the men who were pointing out all the homes that they had robbed in our neighbor. The officer said that if my husband had been home, they would have hurt him or even killed him.

I feel that my guardian angel saved my husband by instilling the need in him to go to the store at that exact time. He still does not know why he went that day. But I am thankful to my angels for their love and help in looking after my family.

Julie Brown-Williams

"Always Listen to Your Guardian Angel"

This is an angel story that has a moral to it. Always listen to your guardian angel! One morning as I woke up I heard a voice saying over and over don't get on the boat, don't get on the boat. So I told my husband about it. That day we were going boating with a friend who was bringing another friend that we had not met yet with their own boat as well.

My husband and I talked about what I had heard and we made a decision to go met with them on the beach, but not to get on any of the boats that day. However at the end of the day after not getting on any of the boats, my friend talked me and my husband into getting on the boat for just a ride only. We gave in and went.

While they were pulling a tuber in a double tube, the new ski rope, snapped. It snapped because the tuber had fell off the tube and the boat driver who had been drinking continued to drive the boat at over 30 mph even after we repeatedly yelled at him to stop. The tube submerged and held fast in the water, the ski rope had an estimated 4,000 pounds of pressure place on it and it snapped. At first everyone thought someone was shooting at us. It sounded like two gun shots.

The first of the two gun shot sounds were when the rope snapped and the second one, when it hit me in the head. It knocked me out and cause great bodily injury to me. I am disabled now due to what happened. I wish I had listened to my guardian angel.

So everyone out there don't make the mistake that I did. Listen to your guardian angel. Even if you feel stupid or foolish, don't give in to others wishes around you. Let God lead the way for you through the guidance he gives you through your guardian angels.

Julie Brown

You may use my name or not. It is up to you. Thank you.

---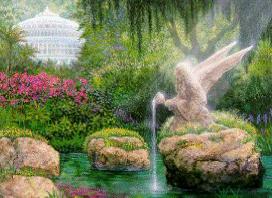 Some may never see with earthly eyes these heavenly beings or know that they exist. Many are unaware of the numerous ways they have protected and guided us. We would like to share with you the stories of people who take pleasure in expressing how real angels are.
---
More Saints
---
---
---
---
---
---
---
---
---
---
---
---
---
---
---
---
---
---