An angels blessing - Angel Stories
By:
A few years ago, I awoke to devastating news. My step father had committed suicide. He and my mother we married only a couple years, he was manic depressant, bipolar & had not been on his medication. I was in total shock, and it was truly a family tragedy. They did have a daughter (my half sister) Grace who I love and adore! A few days after the incident, I was at my mothers house and the door bell rang, I answered it and there was a lady standing there, that I didn't know, she polity asked for my mother. She turned out to be an old work friend who found out what had happened. Anyways I think God had sent her to comfort my mother because she came in and there was a goldish color glow all around her, in her eyes and around her face, it was soo weird, she talked so soft, and peaceful.. I truly believe she was an angel sent by God=)
---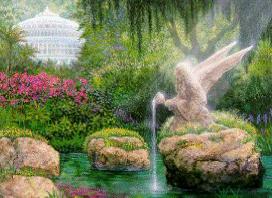 Some may never see with earthly eyes these heavenly beings or know that they exist. Many are unaware of the numerous ways they have protected and guided us. We would like to share with you the stories of people who take pleasure in expressing how real angels are.
---
More Saints
---
---
---
---
---
---
---
---
---
---
---
---
---
---
---
---
---
---