Angel In a Uniform - Angel Stories
By: LaVon Mauck
The day started out like any other. It was a beautiful July morning. My dog, Mo, had been at home most of the day the day before, so before going to work, I knew I would have to take him for a good long walk. We had no problems on the leash and always looked forward to the outings.

I am a runner and had just recovered from a planters wart, so ofcourse beginning to run felt great again after 8 months. We had taken a new route, since there are so many streets to travel and see around my neighborhood. Mo, my Belgian Shepherd Mix was really enjoying himself. Before I realized it, my toe had caught the sidewalk, and I was flying forward with the leash in my left hand, completely leaving the ground without any way to catch myself.
Everything went black for a second.

I felt myself hit under my armpit on the ground and kind of bounce. It hurt a little but I jumped up determined to avoid incident. As I did so, I felt that my shoulder had exploded and I realized I would not be able to take even one step. It wasn't as though I saw my life before me, but in an instant I knew I would not be able to take a step forward. Before I could start to worry however, I looked to my immediate right and in the rode stood a man in a Dark Blue Uniform standing beside a Dark Blue Car that he had pulled in the middle of the road and stopped. There were not many people in the road this early in the morning, and just the thought that anyone was there was amazing. The only verbal communication we had was when he said, "Are you alright"? I answered no and was able to get to his car. I did not see his face, but opened the door on the passenger side and got in.
He tried to get my dog in but Mo would not cooperate. He asked if the dog would be ok, but all I could think of was to hurry for help. I could not maintain consciousness long. Once seated in his car, I did not see him. He returned and took me to the nearest fire station just ahead, but which I would not have been able to reach. From there the ambulance arrived.

The angel seemed to be immaculate and know just what to do, while not saying anything. The reason I believe this was a devine messenger was because of the timing. He was there at the precise moment I desperately needed help. I have never needed help in this way, and this stranger was there as it seemed by devine intervention, in perfect timing. He has a walky talky device and a neighbor who I found out later saw him and told my husband but did not realize it was me said, he had an out of state license plate, but still had the presence to step out and help someone basically injured on the street.

I will be eternally grateful to this angel and thank God everyday for his providence in my life and his steadfast love and promise to watch over his people. It feels great to be able to share this story with fellow believers. Its the kind of thing you just know and have so much confidence to convey. The Angel did not seem human in that it did not seem important to talk, only to act.

---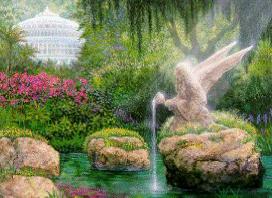 Some may never see with earthly eyes these heavenly beings or know that they exist. Many are unaware of the numerous ways they have protected and guided us. We would like to share with you the stories of people who take pleasure in expressing how real angels are.
---
More Saints
---
---
---
---
---
---
---
---
---
---
---
---
---
---
---
---
---
---