stranded - Angel Stories
By: jtownbit
I had left my wallet at the airport in UT, traveling back to WY, the planes stop in Denver. I was on a late flight, everything closing, without money there was no chance to get anywhere to wait for the later connecting flight.
A very perfect looking person, like a young student,came up to me, out of no where, told me his name. He had a hard time taking a vintage classic bookbag off his back and place it down.He told me that he was praying that morning, asking God what he could do for someone today. He gave me $20 and a blanket. I tried to thank him and he was like a solid column. He avoided eye contact, yet still looked at me. I was awed, I couldn't tell the eyes. He said he would be right over there, waved in a direction and was gone. I had turned back to get the bookbag and run after him, but the old yet perfect bookbag was gone. He resembled the angels on some of the holy cards, but was dressed like a young student, I was a young student. He resembled the ones that were in my favorite angel books when I was a child.
Nope Mr. Ripley, I did not find an abandoned bookbag with money and a blanket and/or dream it up either.
God knew I was already scared to death..since I was in a panic, calling my mother collect, trying to pray for help... God knew that if he didn't disguise the angel, adding the realism, and not make him look so much like the ones out of the books. God knows I'd probably would have passed out. It all happened so fast, I hardly had time to Thank God for the big favor.
I often call joel for help to drive in traffic, I've never been in an accident. He is a travel angel.
---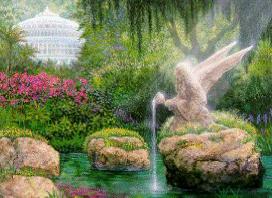 Some may never see with earthly eyes these heavenly beings or know that they exist. Many are unaware of the numerous ways they have protected and guided us. We would like to share with you the stories of people who take pleasure in expressing how real angels are.
---
More Saints
---
---
---
---
---
---
---
---
---
---
---
---
---
---
---
---
---
---