Curtain Call/ Top of the Mark - Angel Stories
By: ST Wein
Location: Wilmington, DE USA
Remember those little three step ladders that say, \"Don\'t Stand On This Top Step\"? Well, I did. I was all alone, trying to put curtain rods up in the sunroom of my \'rehabbed\' house to gain a little privacy. There was nothing to hold onto, no wall close enough and of course I couldn\'t lean on the Andersen windows. As I got to the forbidden step with both feet, unweildly curtain rod in one hand, hammer, nails and and bracket in the other, I started to fall forward. I saw the cement floor and various assorted unpacked boxes of junk coming toward me with rapid speed. I had reached a falling angle of about 45-degrees when suddenly my body was pushed back to a standing position on the little ladder, which I immediately dismounted and stood in back of; dumbfounded in disbelief, weeping, still holding the rod, hammer, nails and bracket.


A few nights later, I climbed the stairs to get to my bed. I had my midnight snack on a tray - some crackers, a pot of jam, a full glass of milk and I remember thinking I shouldn\'t have taken a full glass of milk, nor carried the full pot of jam because the tray was heavy and I had to use both hands to carry it. My age and physical condition are such that I should have been holding the railing, but that darn tray was so important, I used both hands. At the top step I lost my balance and started my forward falling trick again, but somehow was righted once again and not even a drop of milk was spilled. I reached my bed, sat down, started weeping again and thanked my angel for getting me there. Wouldn\'t you think my angel would tire of my stupidity? They are all very understanding, patient and kind.
---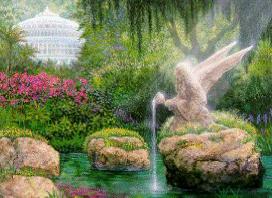 Some may never see with earthly eyes these heavenly beings or know that they exist. Many are unaware of the numerous ways they have protected and guided us. We would like to share with you the stories of people who take pleasure in expressing how real angels are.
---
More Saints
---
---
---
---
---
---
---
---
---
---
---
---
---
---
---
---
---
---