I think I was my guardian angel! - Angel Stories
By: Peggy Atatise
Location: Ontario, Canada
Years ago when my relationship was somewhat rocky, my husband, then my boyfriend, left suddenly to go out of town drinking.


I was unable to follow him because there wasn't another bus that day.

The next day, I hopped the bus and went to the town he headed to, praying to God all the way that I'd find him.
When I got off the bus and onto the main city bus, I walked a few steps and was welcomed by a man I've never seen before. He waved at me as if he knew me and I waved back.


Right then, my husband was sitting a few seats down beside a preacher who had found him drunk and had just brought him to church.


To this day, this was and is so amazingly spiritual to me and I always thought the man waving at me was my guardian angel. For the life of me though, I can't remember how he looked.
---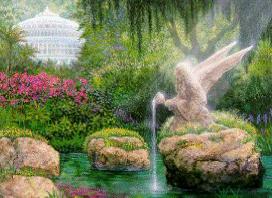 Some may never see with earthly eyes these heavenly beings or know that they exist. Many are unaware of the numerous ways they have protected and guided us. We would like to share with you the stories of people who take pleasure in expressing how real angels are.
---
More Saints
---
---
---
---
---
---
---
---
---
---
---
---
---
---
---
---
---
---